Temperature controlled sample storage is a crucial aspect of modern research and biotechnology. Whether it's storing biological samples, chemicals, or other research materials, it's essential to maintain stable temperatures to ensure the integrity and accuracy of the samples. In this blog post, we'll explore the importance of temperature-controlled sample storage for research and the different options available.
Why is Temperature Controlled Sample Storage Important for Research?
Temperature controlled and cryopreserved sample storage is vital for preserving the quality of samples, especially in fields such as biotechnology and life sciences. These samples often contain sensitive and perishable materials that can be easily damaged by changes in temperature. As a result, maintaining stable temperatures is crucial to prevent degradation and ensure that samples are suitable for analysis and future use.
In addition, many samples used in research must be stored at specific temperatures to remain biologically active. For example, samples that contain live cells or microorganisms must be stored at temperatures that mimic their natural environment to ensure their viability. In such cases, temperature fluctuations can quickly render the samples useless, making temperature control essential.
Options for Temperature Controlled Sample Storage
There are several options available for temperature-controlled sample storage, each with its advantages and disadvantages. These options can include; Cryogenic Storage, Ultra-Low Temperature Storage and Cold Room Storage.
Cryogenic storage:
Cryogenic storage involves freezing samples at extremely low temperatures (-196°C) using liquid nitrogen or other cooling agents. Cryogenic storage is ideal for long-term preservation and is commonly used for storing biological samples, such as blood, tissues, and cells.
Cryogenic storage can come with several challenges including; maintenance of equipment, automation reliability and capital expenditure could all be restrictive factors to consider.
Ultra-Low Temperature (ULT) Storage:
ULT storage involves storing samples at specific temperatures, such as -80°C. This type of storage is ideal for samples that require precise temperature control, such as vaccines, biopharmaceuticals, and biological samples.
Depending on the facilities available limiting factors can be resource and facilities related, the footprint taken up by manual or automated sample storage freezers can be restrictive in certain locations such as Boston, USA or Cambridge, UK. Automated systems can also present issues such as facilities requirements and a lack of system robustness.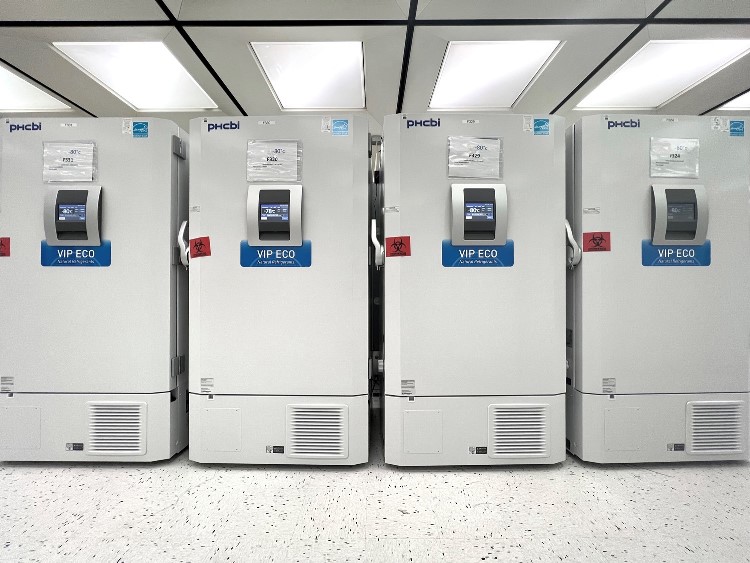 Cold Room Storage:
Cold room storage typically involves storing samples at controlled temperatures between 2°C and 8°C. This type of storage is commonly used for samples that must be maintained at low temperatures for short periods, such as medical samples and pharma product.
Depending on volume stored, managing facilities for cold room storage can be less complex than lower temperatures, but when storing higher volumes specialized warehouses and buildings may be required – this could come with large capital expenditures and resource requirements.
Sample Storage Tubes
According to ISBER Best Practices, sample storage tubes should feature a barcode to enable tracking at the tube level. This is often done using a 2D coded sample storage tube which is a type of laboratory sample container with a unique 2-dimensional barcode imprinted on it, this can be read by a barcode scanner to identify the contents of the tube. The barcode serves as a unique identifier that can be cross referenced within a Laboratory Information Management System (LIMS) such as SampledSphere information such as the sample name, date of storage, and other relevant details.
Using 2D coded sample storage tubes helps in efficient and accurate sample tracking, storage, and retrieval. They provide a reliable and convenient means of identification and reduce the risk of mix-ups or mislabeling of samples. Additionally, the use of barcodes helps automate the sample management process, reducing the manual effort and errors associated with manual tracking. This ensures that samples are properly stored and preserved for future use, and that research results are accurate and reliable.
That said, not all sample types can or should be stored in a sample tube – as an independent organization Sampled can work with many different labware suppliers and will always recommend the most appropriate primary storage vessel for your needs.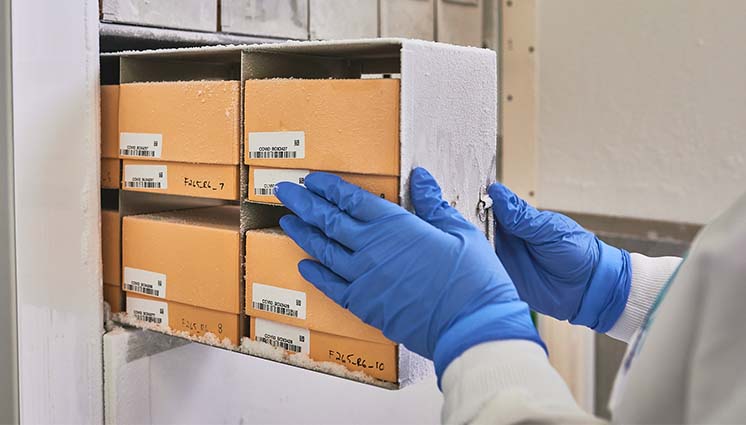 When looking at sample storage, there could be major benefits to working with a partner such as Sampled. As one of the worlds largest biorepositories and nearly 25 years' experience in sample storage, if you have a sample, we can store it.
Conclusion
Temperature-controlled sample storage is an essential aspect of modern research and biotechnology. Whether you're storing biological samples, chemicals, or other research materials, it's crucial to maintain stable temperatures to ensure the integrity and accuracy of your samples. With the different options available, from cryogenic storage to refrigerated storage, and huge variety of primary storage vessels, researchers can choose the best solution for their specific needs and ensure that their samples are stored in a manner that is safe, secure, and suitable for future use.
Please reach out to our team today to learn how we can support your research.