Explore our sample storage services
Biobanking
As a leading biorepository, Sampled have been perfecting the science ofsample storage, biobanking, bioprocessing and analytics for over two decades.
ICH Stability Storage
Our state-of-the-art pharmaceutical Stability Storage facility offers all conditions as defined in ICH, Q1A and Q1B guidelines for the four main world climatic zones as well as any custom conditions you may require.
Sample Retrieval
Here at Sampled we have tens of millions of samples stored across our sites, so sample retrieval is at the heart of what we do.
Sample Data Storage
At Sampled we understand that correct storage of data is just as important as storing physical samples. This is why we have streamlined processes to store all manner of sample data from results generated by cellular assays to test data samples.
Ambient Storage
The perfect solution for your temperature controlled needs. Sampled's state-of-the-art facility is the perfect solution for your controlled temperature and ambient storage needs.
Photostability Testing
Sampled have a fully-qualified Photostability chamber dedicated to photostability testing. The chamber holds 25°C for the duration of the study, and is equipped with radiometers/lux meters.
Informatics
Producing high quality, repeatable data generated by your samples is the end goal for us, but it is not where our services end
SampledSphere
Sample data access and visibility is vital and we believe that researchers should have access to an interface that allows them to locate where their samples are stored, what bioprocesses they have undertaken and understand the quality of their samples.
Biorepository Sample Storage for the Research Community
The research community leans heavily on biosample storage services provided by biobanks. Human biospecimens used for future research serve as a foundation for understanding drug delivery and cell activity and helping to Identify disease patterns.
Biospecimen research also assists in discovering how drugs or types of therapies work by way of 3D human-tissue modeling. Researchers use this information to develop screening tests to detect biomarkers associated with disease specific diagnostic evidence and staging. This type of research using human sample storage inventories works towards obtaining early and more accurate patient diagnoses. [1]
For example, consider a research study comprised of 4,000 biosamples. Because replication studies will be required to prove conclusive outcomes, it will be necessary to have approximately 20,000 samples. Large-scale biosample acquisitions like this can usually only be provided by coordinating with biorepositories and biobanks.
The two terms are often used interchangeably although they are two distinct institution types. A biorepository is designed for multiple service offerings and sample types and may only be acting as a storage facility, while a biobank typically may only specialize in specific sample types of biospecimen storage and have a collection on a specific demographic which is available for use by the wider research community for example as part of cancer research. [1]
The sample storage types may vary considerably in each institution, but some overlap is common with regard to their respective biospecimen or kit offerings. The research community finds this to be especially true for categorized biobanks and biorepositories.
For example, a biobank's holdings may be focused on a specific disease or cancer type(s). This type of biobanking taxonomy is common because biobanks were originally constructed to combat hard-to-treat diseases, cancers, neuro and blood anomalies. An example of a disease-centric biobank is the University of California, San Francisco (UCSF) AIDS Specimen Bank (ASB) and the establishment of the US National Cancer Human Biobank, caHUB.
Networking among biobanks and biorepositories facilitates viable sample storage to meet the needs of the research community. The scope of sample storage types found in a biorepository or biobank may include:
| Biorepository Sample Storage Types | Biobank Sample Storage Types |
| --- | --- |
| Blood, tissues, bone, saliva, urine, teeth, fingernails | Blood components: plasma, platelets, whole blood |
| Reagents | Tissues: FFPE, Paraffin Blocks |
| Plasma | RNA, DNA |
| RNA, DNA, PBMCs | Human materials: urine, teeth, saliva, bone, fingernails |
| FFPE, Paraffin Blocks | Tumorous tissues |
| Multiple living cell types including those of animal origins | Organ tissue, skin cells |
Importance of Storing Samples Correctly
Degradation of a bioproduct occurs when the sample is exposed to adverse environmental conditions or elements such as heat, air, or humidity. With the help of automated monitoring practices, sample degradation is minimized. [1,3]
Biobanking and Sample Storage
Preserving and cataloging the biosamples intended for long-term sample storage is a primary function of a biobanking facility. Researchers rely on biorepositories for viable samples; therefore, quality control standards are critical from the point of collection through to the time for analytic processes. [1]
Maintaining BioSample Integrity
Many factors are involved in maintaining biosample integrity during sample storage. Preanalytical values and strict handling procedures are major contributors to specimen health. Biorepository personnel also take care to eliminate any unnecessary freeze and thaw cycles for innocent samples. [3]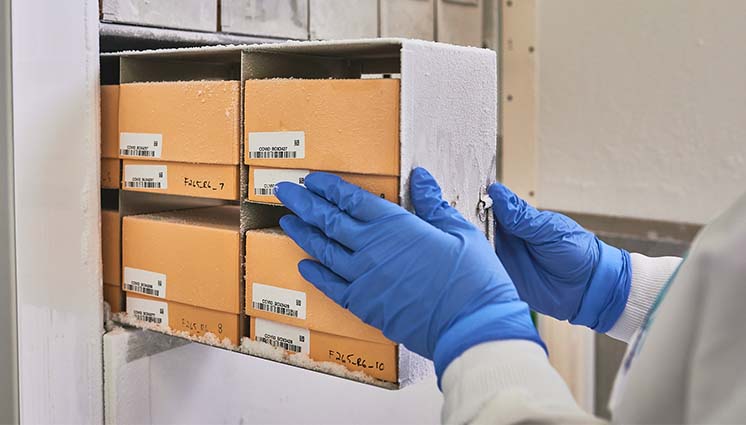 ICH Stability Storage
ICH pharmaceutical stability storage is a tool used to determine the lifecycle of pharmaceutical products. Stability storage is the placement of samples into environmentally controlled chambers to evaluate how the specimen reacts in real-time under a specific set of environmental controls such as temperature, humidity, and light. [3]
Sampled can help with incorporation of stability studies during all stages of the drug product life cycle; from early stage of the product development to late stage follow-up stabilities. We offer all conditions as defined in ICH, Q1A and Q1B guidelines for the four main world climatic zones as well as providing customized settings tailored to your specific needs.
Additionally, our team of experts specialize in recreating simulated environmental conditions and provide a trusted outsourced environmental testing service. It should also be mentioned that our testing services are performed in our multi-point validated chambers which are traceable to UKAS and NPL via their chilled mirror unit.
Ambient Storage
An ambient storage condition is defined as a dry, clean, well ventilated area at room temperatures between 15° to 25°C (59°-77°F) or up to 30°C, depending on climatic conditions. [3]
Sampled offer a state-of-the-art climate controlled facility with tolerances that exceed ICH Guidelines. Our facility is highly secure and controlled using continual temperature monitoring provided by Hark's state of the art cloud based monitoring system and their automatic backup generator. We welcome any questions about your storage needs.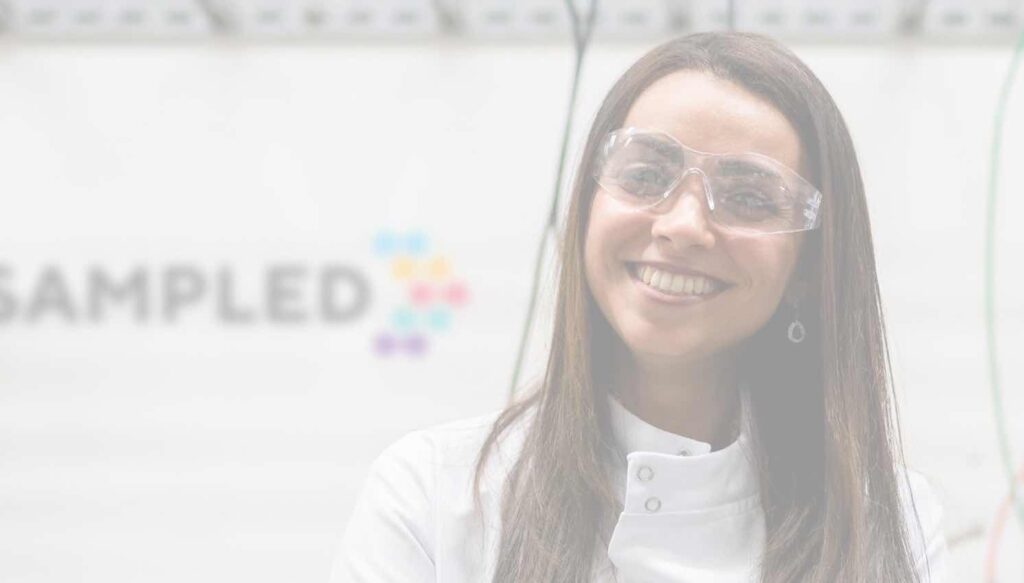 Sample Storage in a Controlled Climate is Paramount
Samples that are not housed or monitored correctly can degrade quite easily and become unusable. Clinical studies show that even subtle changes in temperature can affect stability in bioproducts.[1,2] Biorepositories offer an advantage for providing controlled storage options. They can easily accommodate large volumes of biospecimens with varying temperatures equipped with technological tools that help to safeguard inventories.
Another benefit to using a biorepository is that they meet regulatory requirements and guidelines with digitized documentation records. Additionally, professional sample storage in a controlled climate assists in maintaining patient safety and positive outcomes. One spoiled sample can have disastrous results if it is allowed to bypass safety analytics and be passed onto the patient unknowingly. [1,2]
Sample Data Storage and Informatics
Informatics serves to identify population based studies and other specific biomarkers that are useful project management tools for researchers. Biorepository personnel collect hefty amounts of patient data such as informed consent, age, gender, occupation, health history, lifestyle choices, and place of residence using a laboratory management system. The LIMS (laboratory information management system) helps keep this data at the fingertips of researchers around the globe. [4]
A LIMS system facilitates sample management and is designed to factor in accountability and tracking at every level. [4] LIMS systems often feature a set of automated logistical points such as:
Handling multiple storage locations and workflow, including tracking and chain of custody with electronic signature captures. [4]
Chronicling specimen transitions for both temporary and long-term storage locations with compete historical reporting of all relative transfers, custodian and location changes. [4]
Organizing the complete genealogy by tracking aliquots, derivatives, and sample retrieval for each specimen. [4]
Managing the full scope of comprehensive biographical information for each donated sample. [4]
Full consent management with regulatory guidance in place. [4]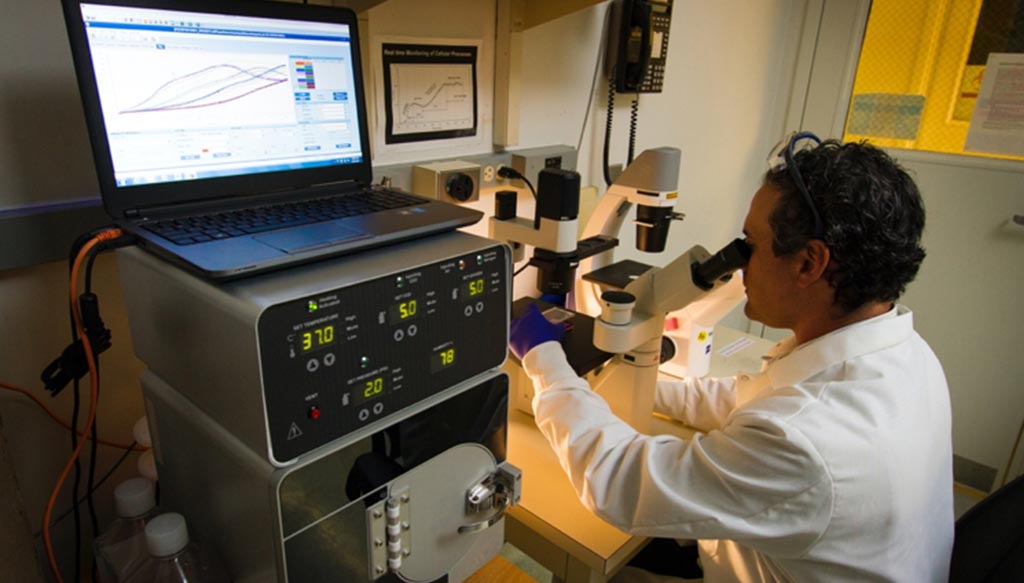 Biospecimens Require Different Storage Temperatures
Recommended biospecimen sample storage temperatures are not one-size-fits all. Proper storage temperatures are dependent upon the biospecimen type and external climate conditions.[3]Some biospecimens may be kept at ambient temperatures while others need to be maintained at cryogenic temperatures.
Industry experts don't recommend room temperature storage for samples intended for molecular analysis. Even slight temperature variances can potentially alter molecular structure or DNA contained within the biospecimen[3]. Consequently, Sampled storage units are monitored using wireless sensors that triggers an alarm if the temperatures get out range.
Automated Storage (-80°C) or Ultra-Low Freezer Temperatures
Automated storage is ideal for long-term situations. At these extremely low-temperature ranges, degradation can be avoided. ULT freezers typically house various molecular-based substances (including proteins, nucleic acids, etc.) [2,3]
Mechanical Storage (-70°C)
Mechanical freezer systems are common for large-scale projects and operate using a standard mechanical refrigeration cycle with common refrigerants like ammonia or carbon dioxide. Sampled has over 4,000 square feet of storage specially constructed for cryogenic mechanical storage outfitted with -80°C freezer units. [2,3]
Liquid Nitrogen (-190°C) / Liquid and Vapor
These temperatures are commonly expressed as "vapor phase LN2," or cryogenic temperatures. This type of freezer storage is the coldest biospecimen storage possible. Under these conditions, molecular activity is halted, therefore suspending mechanism of action until analysis. [2,3]
Bulk or Non-Bulk (15-27°C)
Bulk or non-bulk storage options are available for large-volume specimen housing. Large numbers of specimen vials are frozen in blocks and stored in bulk style containers such as those commonly used for large-scale shipping and housing products. [1]
Global Distribution of BioSamples
Biorepositories are required to ensure all personnel working in distribution are carefully trained and that they obtain proper IATA certifications. Distributing biosamples may involve shipping thousands of samples to fulfill an order; therefore, automation tools and quality logistics planning help ensure the specimens remain stable during all transitions. [2,3]
Utilization of Cold Chain Storage and Logistics
The goal of cold chain storage and logistics is to track and maintain samples from the point of collection until the time of end use.
First, biospecimens are collected following quality control standards. Then the biospecimens are packed and shipped via approved coolers to the destination for advanced downstream processing. This process is known as a cold-chain logistics utilization plan.
The cold-chain process also includes real-time data capture technology to document the sample storage and distribution process, handling times, times in transit, recipients, and each additional transition point from start to finish for ultimate accountability.
Dry Ice, Wet Ice, cryogenic shippers for transfer vessels such as Liquid Nitrogen Containers are all important transfer methods to maintain integrity for a biological sample.
There are several options for maintaining temperatures of biospecimen samples during distribution, including dry ice, wet ice, and liquid nitrogen. Each safeguards the bioproduct from temperature variations. Special temperature sensors that deliver data in real-time to the logistics management team may also be used.
Sampled Offers Short- and Long-Term Sample-Storage Solutions
Sampled offers a wide range of sample storage capabilities for biological samples used for research purposes that can be an alternative to keeping a lab freezer (or multiple freezers) in-house. Sampled completed a ten-million-dollar laboratory expansion project in 2013 which houses advanced, automated robotic instrumentation. This renovation was partially supported by an ARRA grant from the NIH.
Each Sampled facility is outfitted with sophisticated cold-chain storage equipment and technology. We understand how to deploy temporary sample storage plans or how to transition your product lot to a safe long-term biospecimen storage methodology. Sampled has over 5,000 square feet of specially constructed space for cryogenic liquid nitrogen storage vessels.
This space currently houses 65 high-capacity liquid nitrogen tanks holding approximately 2.5 million ampules with an independent, separate backup site for all cryopreserved cell lines. High-efficiency vacuum jacketed insulated pipe conveys LN2 directly from the dedicated 6,000-gallon LN bulk tank located on site, to all internal cryotanks. Additionally, there is another 6,000 square feet of off-site warehouse space for bulk plastic and consumables storage.
Disaster Recovery
Sampled use modern laboratory technologyfor our lab storage and alarm systems to help safeguard against unforeseen blackouts, equipment failures, and temperature spikes. Should the equipment experience performance deviations, all incubators, freezers, and refrigerators are monitored 24/7 by central alarm systems that notify both Sampled and Rutgers University personnel.
All critical equipment and mechanical systems are on emergency backup power provided by two natural gas and three diesel-fueled generators with a total capacity of 1.5 megawatts as well as ln2 storage back up systems.
A separate building houses the backup site for all cryopreserved specimens. In addition to the audible/visual fire and smoke alarms, Sampled has multi-tiered alarm systems that monitor ambient O2 levels and door entry activity. Sampled laboratories are designated BL-2 and are inspected semi-annually by Rutgers Environmental Health Services and Fire Safety Inspectors.
Accredited Biobanking Services with Sampled
Sampled is one of the worlds largest sample storage biobanks with over 12 million samples in storage, and we are experts in our field. Sampled is accredited by the College of American Pathologists (CAP), a worldwide leader in laboratory quality assurance.
In 2012, the College accredited Sampled through its Biorepository Accreditation Program, making the operation at Rutgers one of the first in the world to earn this designation.
Accredited and acknowledged on a global scale, Sampled has developed a solid history of excellence in the science of biobanking, bioprocessing, and analytics since 1999.
Customized Conditions Based on Biomaterial
Our team understands the fragility of biospecimens used for future research and prioritizes regulatory guidance alongside a strict set of SOPs and best practices. Of note, Sampled adhere to ISBER Best Practices sample storage guidelines, considered by many to be the gold standard in biobanking practices. Sampled harbors an extensive industry-specific knowledge base. We use this expertise to find customized approaches towards optimizing biospecimen storage conditions.
Biorepository with Secured Storage
Sampled sample storage areas in NJ are monitored by a SCADA 3000 Sensaphone system that notifies key Sampled personnel through a dedicated phone line. Only authorized staff with a valid, coded key card may enter Sampled facilities. A computer record is generated for all key card entries. In addition, closed circuit video cameras stationed at critical areas monitor the interior and perimeter of the facility.
Laboratory Sample Storage
All sample storage facilities have 100% redundant HVAC and personnel safety monitoring systems in place in the event of a LN2 pipe leak or cryotank equipment failure. The multi-unit HVAC system has been constructed with excess capacity to handle any additional, unusual heat or cold load.
Easy Sample Access and Retrieval
Once received, personnel unpack and migrate the samples to the appropriate laboratory processing teams. Each laboratory processing team validates the data and processes the samples according to their project-specific workflow.
Automated sample tracking and 2D barcode technologies ensure all stored biosamples remain at the recommended temperatures in sample storage. Two-dimensional (2D) barcodes look like squares or rectangles with embedded microdots which are capable of holding large bits of information. Sampled also uses report-friendly proprietary technology solutions to track analytical data throughout the testing process. This informative gateway facilitates easy access and retrievals of any specimens onsite at Sampled facilities.
Contact Sampled for Biosample Storage Information
As a scientific company, we proudly partner with those in our community. As a fully functional biorepository, our capabilities cover the entire life cycle of a sample. We are staffed 24/7/365 and boast exceptional handling and processing technology.
With automated tools and sharp execution of quality assurance standards, we offer the best in biorepository science. We invite you to learn more about Sampled's comprehensive service suite.
References:
National Research Council (US) Panel on Collecting, Storing, Accessing, and Protecting Biological Specimens and Biodata in Social Surveys; Hauser RM, Weinstein M, Pool R, et al., editors. Conducting Biosocial Surveys: Collecting, Storing, Accessing, and Protecting Biospecimens and Biodata. Washington (DC): National Academies Press (US); 2010. 2, Collecting, Storing, Using, and Distributing Biospecimens. Available from: https://www.ncbi.nlm.nih.gov/books/NBK50729/
Serban C. Moldoveanu, Victor David, in Journal of Chromatography Library, 2002 https://www.sciencedirect.com/topics/chemistry/preservation-technique
https://www.gmp-compliance.org/gmp-news/what-are-the-regulatory-definitions-for-ambient-room-temperature-and-cold-chain
Heinen, S., Schulze, N., Franke, B. et al. HEnRY: a DZIF LIMS tool for the collection and documentation of biomaterials in multicentre studies. BMC Bioinformatics 21, 290 (2020). https://doi.org/10.1186/s12859-020-03596-1