Kitting
Sampled is a next-generation, high-profile biorepository with relationships across the globe and offers customizable sample collection kitting services as one of our premier offerings
Order a free sample kitting pack
|
Our staff are highly trained in IATA shipping procedures, and we maintain close relationships with multiple shipping providers.
Expert Sample Collection Kitting
Our sample collection kitting team provides materials needed to aid the client in procuring samples for us has a comprehensive understanding of the clinical trial process, and kitting is an integral component towards that process.
Sample Collection Kitting services by Sampled are performed with our clients' needs in mind. The Sampled has a comprehensive understanding of the stringent time constraints that most clinical trials operate under.
Kitting helps to simplify both inventory and tracking procedures, since each kit is assigned a unique identifier.
Customized kitting allows flexibility and options to outfit any scale project or trial. We can include bulk items such as ancillary supplies, reagents, tools, and multiple sample types into one customized kit.
Our kitting operations also feature an end-to-end sample management system that encompasses tracking and chain of custody accountability.
All kits are shipped using proprietary tools to safeguard specimen integrity and are accompanied by the utilization of a state-of-the-art LIMS system that tracks the kits from the point of packaging to its destination.
We deploy sophisticated semi- and fully automated processes that help minimize costly errors and help keep the clinical trial process moving on time. It is not uncommon for unique local and international regulatory requirements to complicate the overall flow of the trial process.
Sampled can help our scientific partners overcome these hurdles without delaying research activity, testing applications, or production.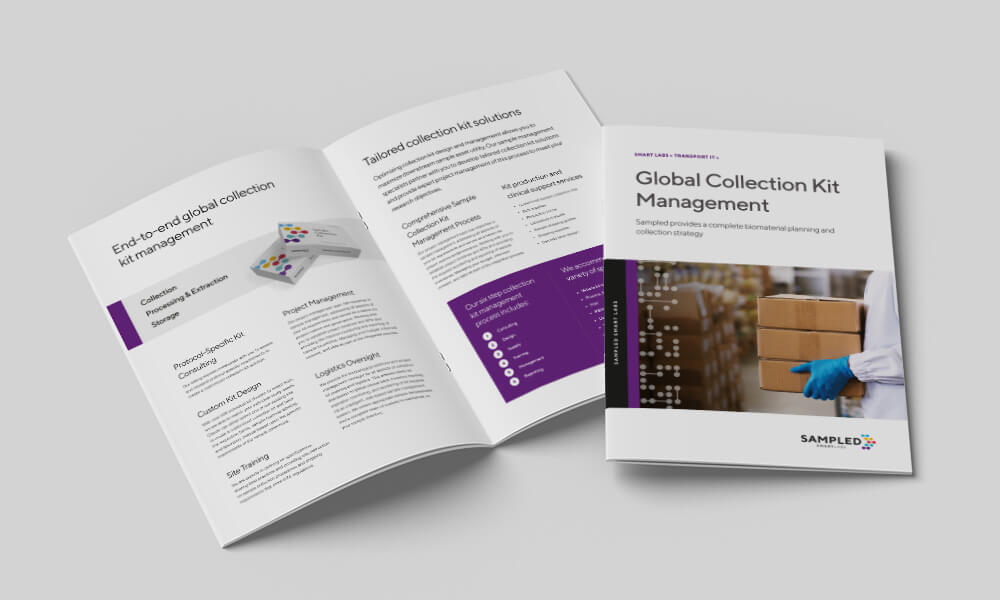 Why Outsource Sample Collection Kitting?
Outsourcing sample collection kitting is becoming increasingly popular in the pharma and biotechnology industries. Sampled offers a range of services related to sample collection kitting, including sample preparation, packaging, and shipping. Here are 3 reasons why outsourcing to Sampled could be beneficial for your research:
Expertise and Efficiency: Sampled has specialized knowledge and experience in sample collection kitting, which enables them to efficiently manage the process.
Quality Assurance: Sampled has a strict quality assurance process to ensure that each kit is prepared accurately and meets the necessary standards.
Cost Savings: Outsourcing to Sampled can result in cost savings for organizations, as Sampled can leverage economies of scale and bulk purchasing power to obtain materials at lower costs, which can be passed on to the client.
Outsourcing sample collection kitting to Sampled could offer various benefits to researchers. These benefits include specialized knowledge and experience, strict quality assurance processes, and cost savings due to economies of scale and bulk purchasing power. By outsourcing to Sampled, organizations can be assured of accurate and efficient sample collection kitting, enabling them to focus on their core business activities. Learn more in our kitting brochure.
Speak to an expert today
We invite you to learn more about our unique offerings – contact one of our experts to learn more today.