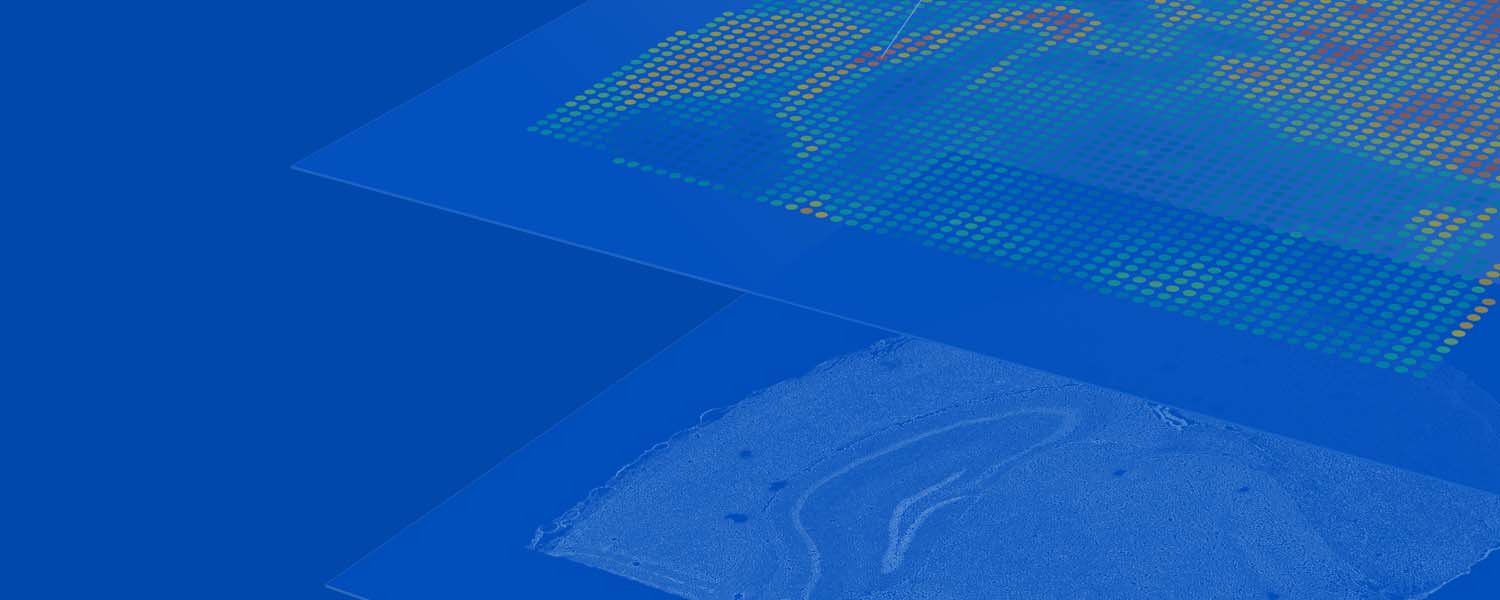 10x Genomics
Powering researchers' insights with innovative single cell, spatial biology, & in situ tools.
Biotechnology Research
Pleasanton, California
Visit 10xgenomics.com

10x Genomics – Certified Service Provider
Sampled are proud to be a certified service provider for 10x Genomics, providing our clients with access to the innovative solutions for single cell assays for Transcriptomics.
The established Certified Service Provider Program is designed so clients can access a reliable provider network for outsourcing genomic and single cell analysis through global service providers like Sampled.
Inclusion in the program is open to fee-for-service laboratories who meet a high standard of technical and service requirements that are reviewed annually for each chosen application, which can include one or more of the Chromium Solutions:
Single Cell Gene Expression
Immune Profiling
Genome
Exome
Application Areas for the 10x Genomics Solutions include:
COVID-19
Infectious Disease
Immunology
Oncology
Neuroscience
Drug Discovery
The Certified Service Provider partnership with 10x Genomics includes training, evaluation and annual recertification process. The certified services include:
Chromium X, which allows clients to:
Analyze how cellular heterogeneity contributes to your biological system with transcriptional profiling at single cell resolution across tens of thousands of cells
Gain new insights into cell subtypes and states with multiomic readouts of gene and cell surface protein expression
Explore cellular phenotypes with whole transcriptome analysis or focus on relevant genes and pathways using pre-designed or custom Targeted Gene Expression panels
Investigate complex genetic networks and perturbed transcriptomes in normal and diseased cell types by simultaneously detecting CRISPR guides and single cell gene expression profiles1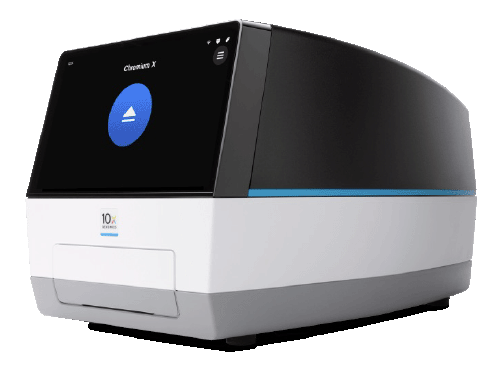 As part of the 10x Genomics solution Sampled operate several platforms including:
Automated platform Chromium Connect – for automation of single cell sequencing workflows.
Analysis platform Chromium X – for reliable and scalable single cell analysis.
The associated Kits & Accessories – for supporting workflow integration.
Featuring the new platform Chromium Connect which is fully automated so it has all the benefits of automation and Chromium X which can handle low to high throughput of all single cell assays, including Fixed RNA Profiling.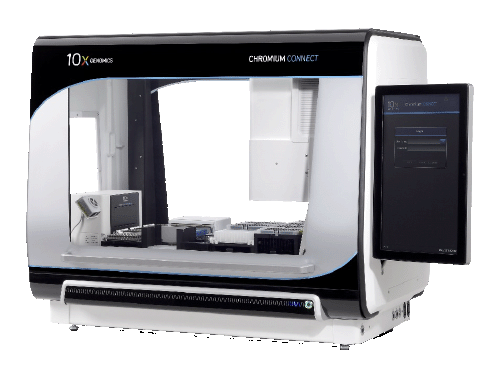 What do these workflow solutions look like in a Sampled Lab?
Example workflow using 10x Chromium in a Sampled Lab.
Cryopreserved Cells derived from cell lines, primary cells, or dissociated healthy or tumor tissue; or Fixed RNA stored in our biorepository.
Client requests the samples be sent for Sequencing via 10x Genomics Chromium.
Sampled's Cell Lab will prepare the cell suspension from the cryopreserved cells for Sequencing team. Fixed RNA can be directly processed by the sequencing team.
Sequencing team performs wet lab work and generates sequencing data.
Analysis performed as per clients' request.
Data transferred to client.
Sampled Labs are here to support your single cell gene expression and sequencing needs for low to high throughput. Combining this service with our other outsourced lab services is easy as we offer a holistic, customizable service. Get in touch with our team today to learn how Sampled can support your research as a Certified Service Provider with assay platform 'Chromium', automated platform 'Connect' and associated accessories and kits.
Providing a clear, full view of biological systems at an unprecedented scale and resolution, this technology offers solutions for a huge range of applications from Oncology to Neuroscience. As a Certified Service Provider we're proud to provide immediate access to this technology to our clients.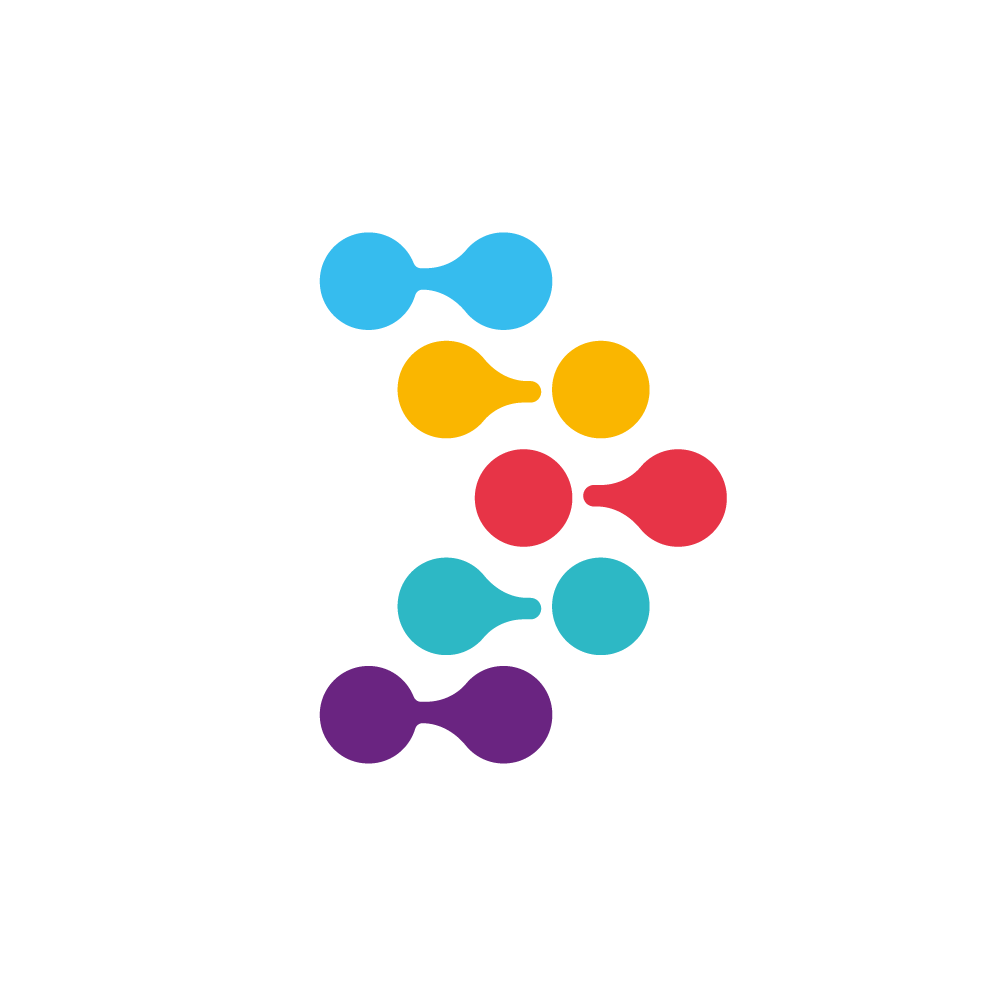 Shareef Nahas
Chief Scientific Officer, Sampled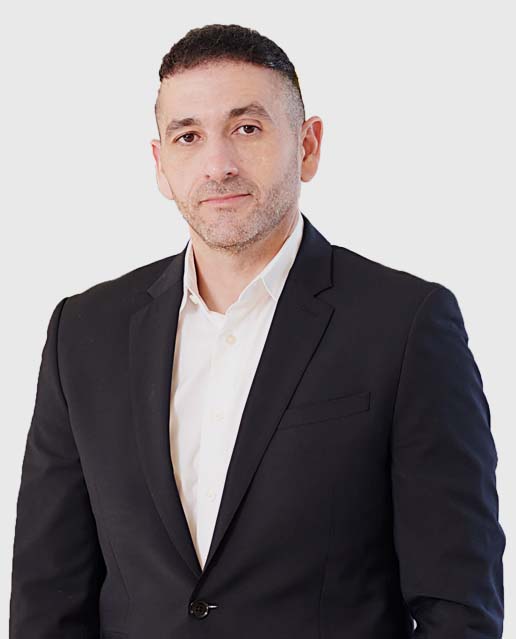 If you would like to learn how to access our 10x Genomics single cell gene expression services, reach out today.
Sources: 1. 10x Genomics Product Sheet (See: LIT000093 – Rev D – Product Sheet – Explore cellular diversity, cell by cell) www.10xgenomics.com