SampledSphere
Sample data access and visibility is vital and we believe that researchers should have access to an interface that allows them to locate where their samples are stored, what bioprocesses they have undertaken and understand the quality of their samples.
This is why we have created SampledSphere, a next generation informatics platform that allows researchers to leverage the data around their samples including everything from simple LIMS tasks such as registering and searching for samples to track location and storage condition, through to accessing research results and harnessing big data.
SampledSphere – Store enables you to register and search for your samples and generate automated data feeds that can be tailored to suit your needs. The system employs a HIPAA-compliant interface and is highly secure to meet the needs of researchers taking part in clinical trials.
SampledSphere pillars
The pillars that match our unique Sampled service structure: SampledSphere
STORE
Sample storage and retrieval SampledSphere
MANAGE
Sample related data, bioprocessing and disaster recovery SampledSphere
ANALYZE
Access to request and access test data SampledSphere
RESEARCH
Access to data, status updates and reports from complex research projects SampledSphere
TRANSPORT
How do informatics users work with SampledSphere – Store?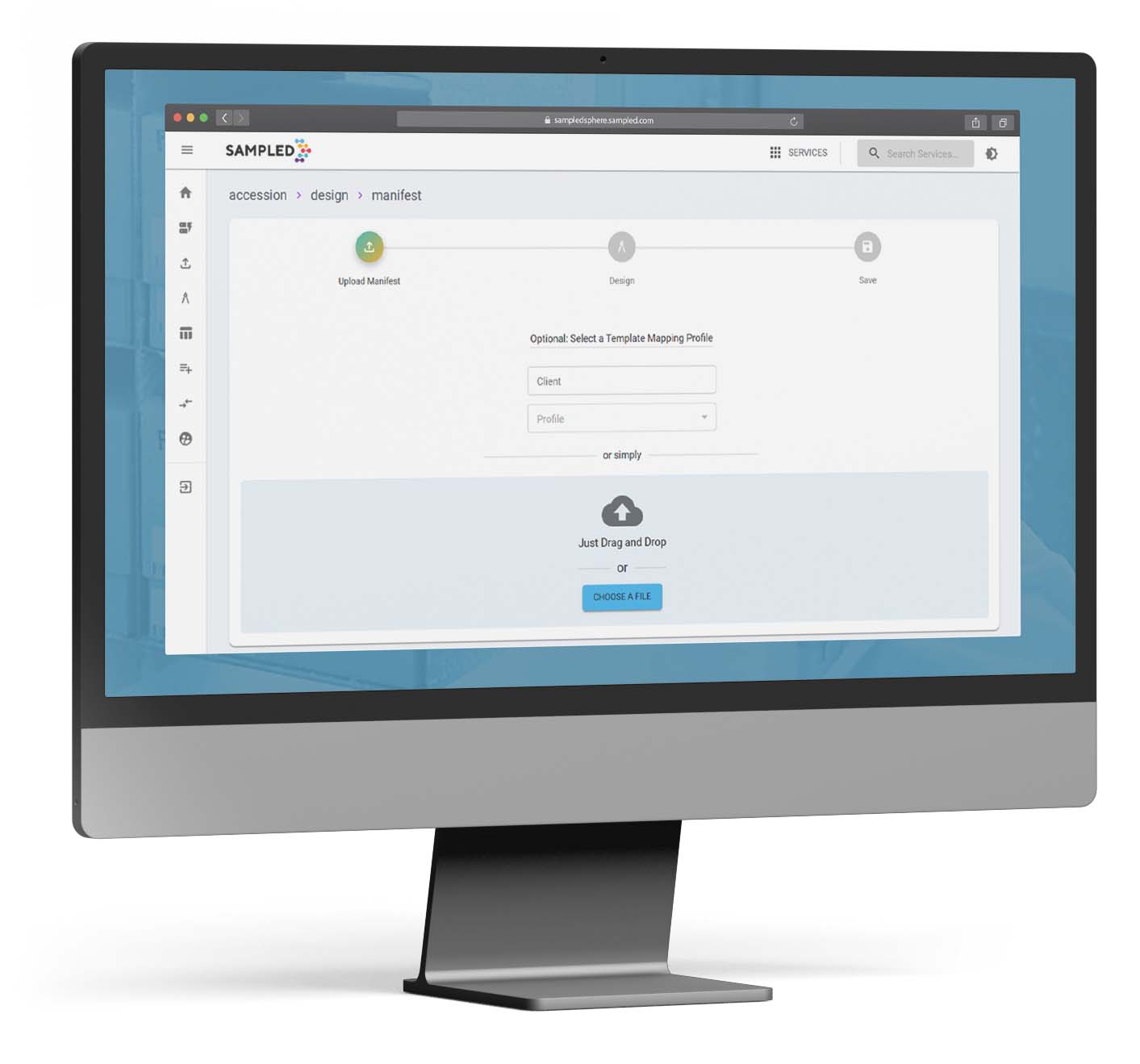 Step 1: Register your samples
Users can either manually register their samples or via electronic manifests. We allow users to pre-register their samples even before they arrive at our storage facility, in the form of an e-manifest.
Electronic manifest ingestion allows the Intelligent and highly customizable manifest ingestion tool to work for you. Store is designed to mold client provided data to be accepted into Sampled databases so that you don't have to change your datasets. It is easy to change customizable data ingestion tool to fit changing needs of your data.
---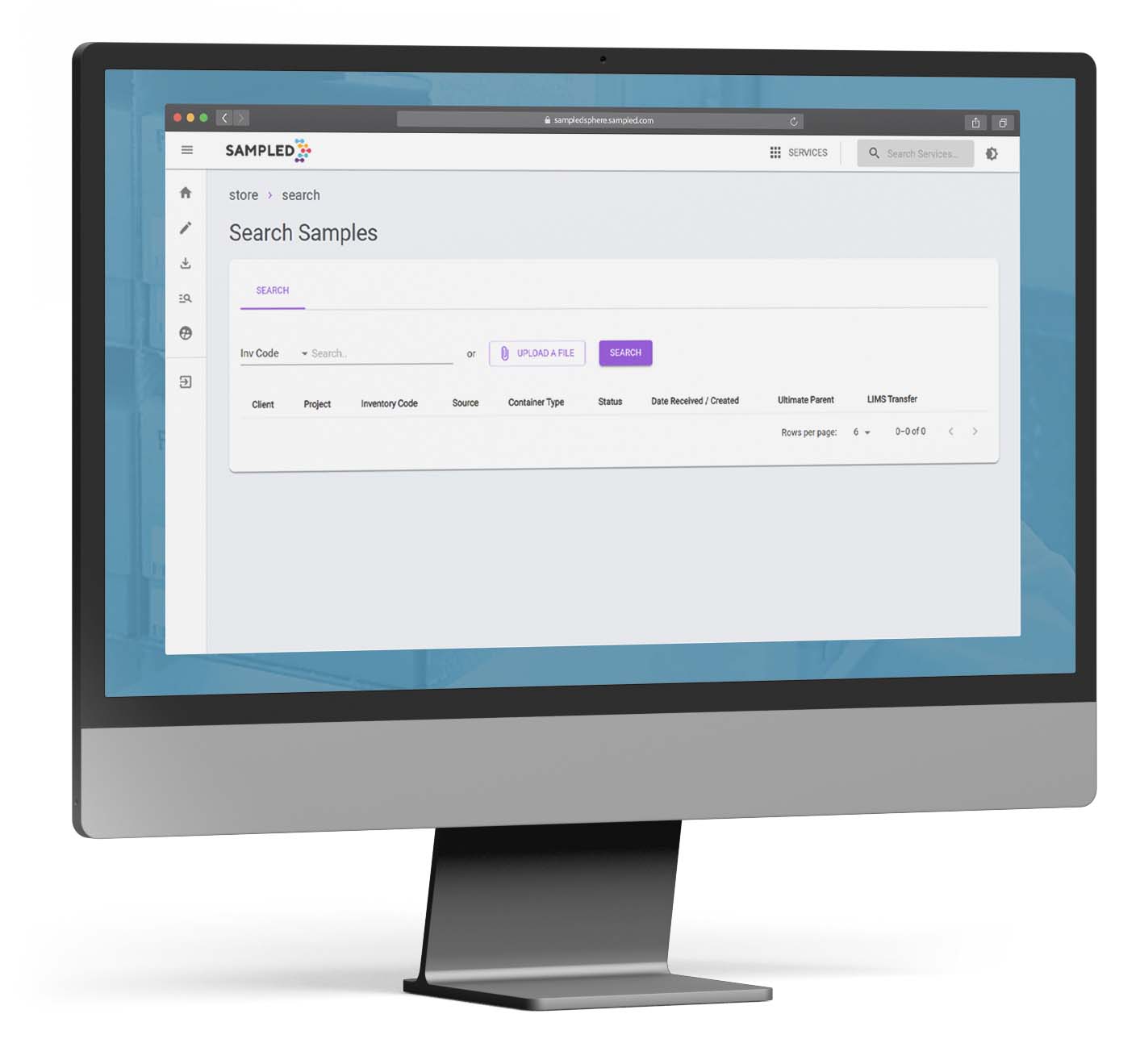 Step 2: Search for your samples
Searching for your samples is easier than ever, the platform allows you to create and tailor your own dynamic searches and save them for the future.
The platform allows users to search for samples based on their inventory code or groups of samples based on their site, source, container type etc. These search parameters are highly customisable and allow you to view and group your data feeds however you wish. Users can even create new columns to categorize samples without having to create a ticket or request assistance, allowing you to view your data feeds exactly the way you want.
---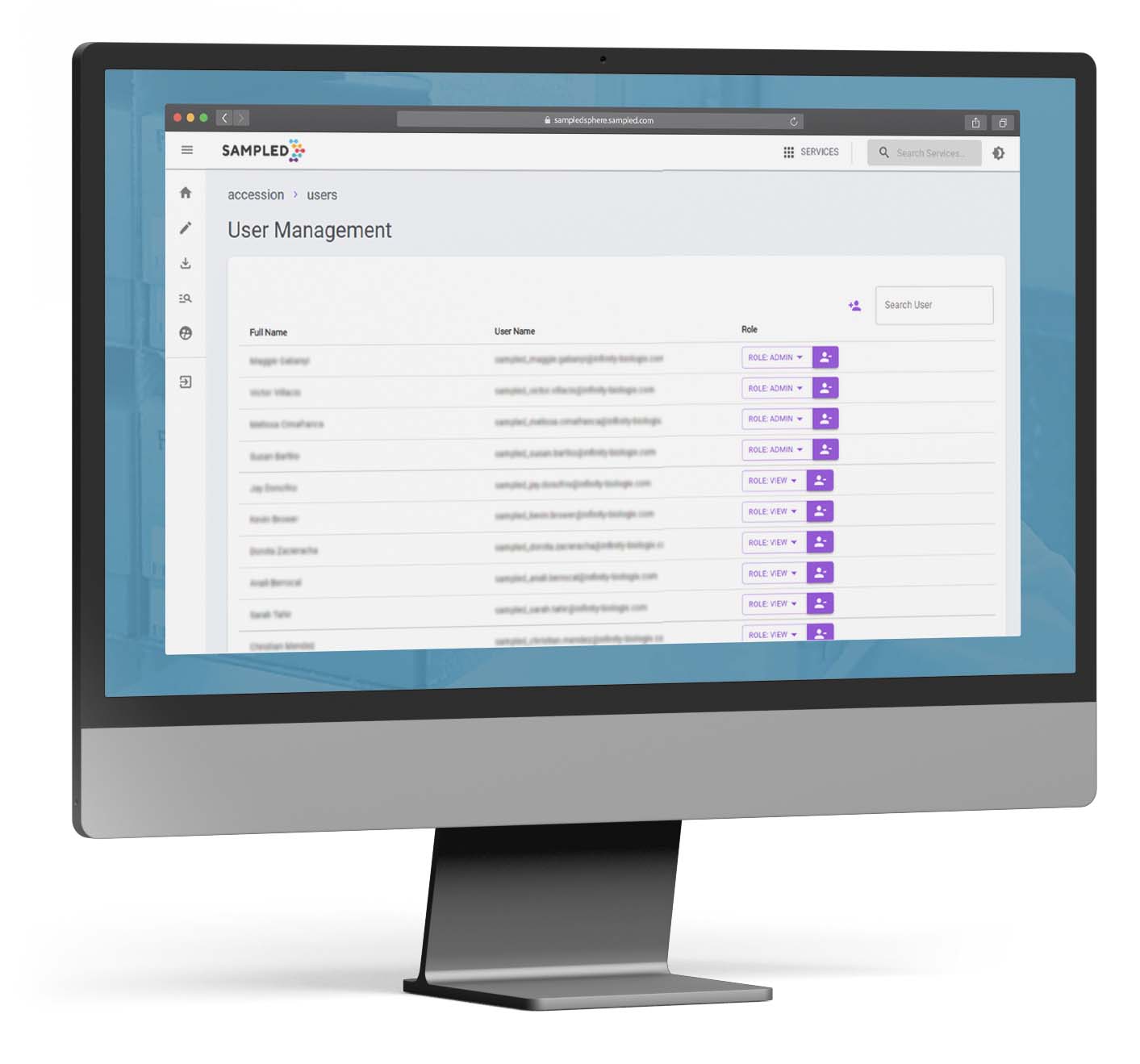 Step 3: Exchange data
Once you have located the right samples, the intelligently designed and highly dynamic data exchange process makes sharing data simple and secure. For group projects, where multiple parties are working together, Store ensures that only authorized clients can access and view relevant data sets whilst streamlining workflows. Allowing admins the ability to assign and complete downstream tasks thanks to the bidirectional feeds to our LIMS platform. Store allows users to generate and automate data transfer to designated repositories using secure connection at the frequency desired.
Ensuring data security
All of our data is hosted on AWS on a serverless, secure architecture. The database that stores all of this information is HIPAA compliant and is stringently guarded. All communication between user browser and databases are conducted through private subnets, so only pre-authorised IP addresses can exchange information.
As a next-generation informatics platform, the platform will continue to develop and grow to support the diverse needs of our clients and act as a centralized bioinformatics hub.
Speak to an expert today
If you are interested in learning more about SampledSphere, please get in touch for a demo today