Outsourcing biological sample storage can be a cost-effective, secure and efficient way for any organization to store and manage their valuable specimens.
Here are five reasons why it is beneficial to outsource biological sample storage:
1. Cost savings: By outsourcing their sample storage, organizations could save money by eliminating the need for capital expenditure and maintain costly equipment, pay for laboratory personnel, and purchase other supplies. Additionally, as an organization's sample storage needs grow, they can easily scale up their storage without needing to invest in additional infrastructure.
2. Expertise: Outsourced biological sample storage providers have specialized expertise and experience in the field, making them well-suited to store and manage samples. They are familiar with the complex regulations related to sample storage and can ensure that the samples are stored according to the required protocols.
3. Security: Outsourcing this sample storage ensures that the samples are stored in a secure environment with the necessary security features. The storage provider should have the necessary security measures in place to protect the samples from unauthorized access and potential loss, theft, or damage.
4. Flexibility: Outsourcing biological sample storage allows organizations to access any sample they need, whenever they need it, from anywhere in the world. They can also easily increase or decrease their storage needs as their sample requirements change.
5. Reliability: With an outsourced storage provider, organizations should be confident that their samples are being stored in the best possible environment to ensure sample integrity and condition. The storage provider will have a team of experts and reliable systems in place to ensure that the samples are properly managed and stored.
Application: Biobanking
There are many applications of biological sample storage, one of the most common applications is Biobanking, which is increasingly important for medical research. Biobanking is the collection and storage of biological samples, such as:
Whole Blood Samples
Serum
Hair
PBMCs
Urine
Tears
DNA
Stool
Breast Milk
Plasma
Fingernails
Sperm
Histological Samples (including fixed tissue samples)
These samples are collected for use in future research from both healthy individuals and those with a variety of diseases or conditions. Biobanks are important for medical research because they enable researchers to study the genetic and environmental factors that may contribute to the development of diseases.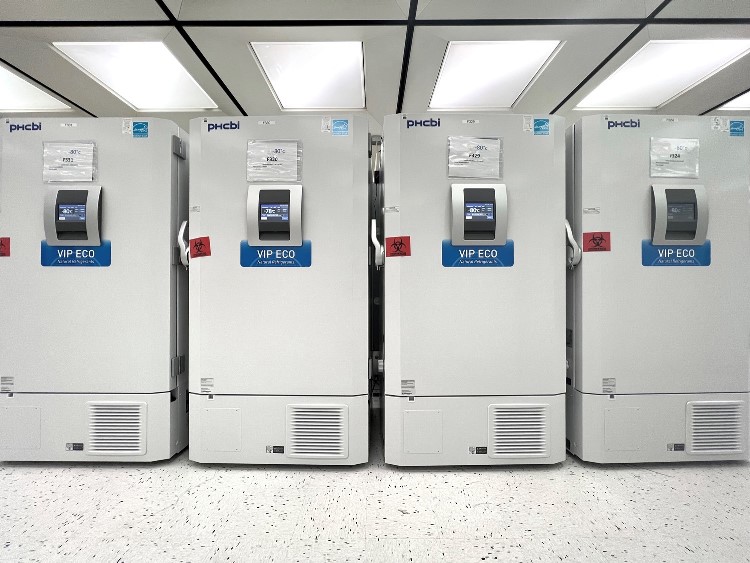 By analyzing biobanked samples, researchers can gain insight into the causes and progression of disease, as well as potential treatments. These samples can also be used to identify new biomarkers and develop diagnostic tests that can detect diseases before they become clinically apparent. In addition, biobanked samples can be used to identify new therapeutic targets, allowing for the development of more effective treatments.
Overall, biobanking can be an invaluable resource for medical research. By providing researchers with access to large sample collections, biobanking enables researchers to gain insight into the causes and progression of disease, as well as potential treatments. In addition, biobanking samples can be used to identify new biomarkers and develop diagnostic tests, as well as to identify genetic markers that can predict how a patient will respond to a particular treatment. With the help of biobanking samples, researchers can continue to make progress in the fight against disease.
By outsourcing biological sample storage, organizations can benefit from cost savings, expertise, security, flexibility, and reliability. Sampled have been storing biological samples for nearly 25 years and operate one of the largest biorepositories in the world and have a network of global sites with a huge range of genomic, cellular and analysis services. Reach out to our team today to learn how we can support your biological sample storage needs.