Biobanking
We are one of the world's largest biorepositories. With over 11.5 million samples in our care, we know how to look after your biosamples. Our team has been perfecting the science of biobanking, bioprocessing and analytics for over two decades.
As one of the first institutions in the world to receive accreditation under the College of American Pathologists (CAP) Biorepository Program, our continued CAP and CLIA accreditations are a testament to our commitment to maintaining the highest standards of bio-storage to safeguard your biological samples so they are available for retrieval whenever they are needed from our biobank.
We understand that research goals and objectives vary from project to project so we give each client individual and customized attention to ensure "best fit" sample storage service. We provide short and long-term biological sample storage solutions for small academic and private labs all the way to large pharmaceutical clients and complex studies. If floor space is an issue for your laboratories, we can also store your freezers and liquid nitrogen tanks at our secure biobank sites.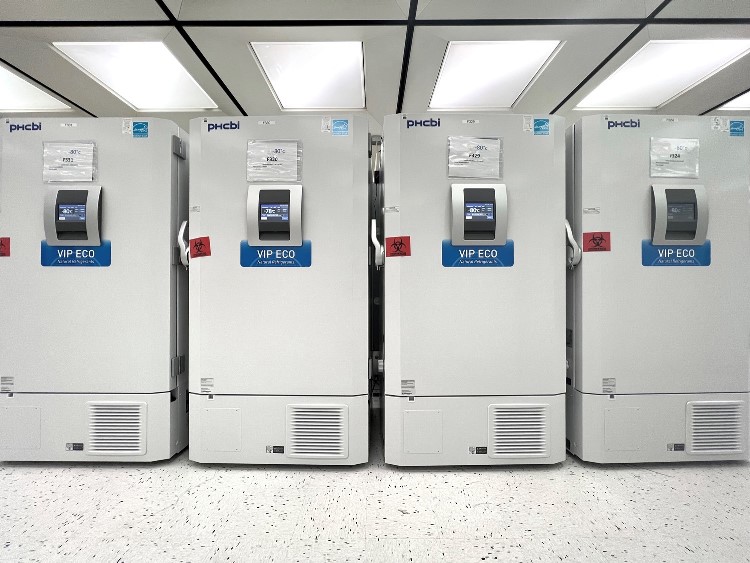 Coupled with our LIMS management system we are able to provide global distribution with cold-chain logistics that is suitable for GMP grade samples. This allows us to record a sample's temperature throughout its journey to or from your laboratory for low and high-touch samples and provide world class storage solutions.
What are the key challenges in biological sample storage for biobanking?
There are several key challenges when it comes to biological sample storage in a where the intention is to utilize the sample for future use and research.
1: Flexibility – labware format, data management, on site space and access are all issues to consider.
2: Cost – Infrascturtuce build out, ongoing service costs and time and resources for FTE and facilities investment should be considered over the lifetime of the sample which could be decades.
Disaster recovery – Storage location, back up generators that work to ensure your samples are protected from natural disaster is vital.
Storage Temperature – whether it be common temperature range such as -20°C, -80°C, or -190°C or a custom range, understanding what temperature your samples need to be stored at and investing in the right solution could make the difference in the viability of the sample in future.
Read our blog here on what to consider for biological sample storage and the benefits of outcourcing to a partner such as Sampled that operate one of the largest biorepositories in the world. With nearly 25 years operating and storing over 11.5 million biosamples and global distribution capabilities, Sampled works with a broad range of clients fromlarge pharma, biotechs, hospitals to academic research institutions as well as government clients. If you have biologic sample storage needs, Sampled has the facilities and expertise ready to support you today.
If you're looking for a reliable and secure biobanking service to store your biological samples, look no further than our biosample storage services. At our state-of-the-art facilities, we offer advanced storage solutions for a wide range of biosamples, including DNA, RNA, blood, plasma, serum, and cells.
Our facilities are equipped with the latest technologies for sample storage and retrieval, ensuring that your biosamples are easily accessible when needed. We also provide robust security measures to protect your samples.
We understand that biosample quality is critical to the success of your research, which is why we take great care to maintain the integrity and stability of your samples. Our temperature-controlled storage environment is carefully monitored and maintained to ensure optimal conditions for each sample type.
Our team of experts works closely with you to develop customized storage solutions tailored to your specific needs. Whether you require short-term or long-term storage, we offer a range of flexible options to meet your requirements.
Our biosample storage services are ideal for a wide range of applications, including genomics research, drug discovery, and clinical trials. We can also provide sample retrieval and processing services as needed to support your research goals.
At our biosample storage facilities, we prioritize customer satisfaction and strive to provide the highest level of service to our clients. With our advanced technologies and experienced professionals, you can trust us to provide safe, secure, and reliable biosample storage solutions that meet your research needs.
We have storage facilities to suit almost any type of biosample
Whole blood samples
PBMCs
DNA
Plasma
Serum
Urine
Stool
Fingernails
Hair
Tears
Breast milk
Sperm
Stem cells and iPSC lines
Histological samples including formalin fixed tissue samples (blocks and slides)
We provide a wide array of sample storage temperatues
Liquid phase storage
-196°C Liquid Nitrogen tanks
Vapour phase storage
-190°C Liquid Nitrogen tanks
Speak to an expert today
Whether it be due to costs, lack of expertise/manpower or simply to validate results acquired by another party, Sampled have the infrastructure and instruments you desire and can propose an alternative to manageing your own lab freezer. With the ability to customise our services to fit your needs, we can help take your research to the next level with our storage services.
Contact us today to discuss your biosample storage needs with one of our sample experts