What analytics services do we provide?
Genomics
Academic, pharma or commercial laboratory? Sampled is here to customize genomics services.
Epigenomics
The impact of DNA methylation on gene expression, imprinting, and deregulation of epigenetic machinery has been implicated in more and more Mendelian diseases, human cancers, and drug resistance which is why at Sampled we have invested in some of the latest technology platforms to identify CpG methylated DNA islands.
Droplet Digital PCR
Our Droplet Digital PCR (ddPCR) service provides absolute quantification of target DNA or RNA molecules for probe-based digital PCR applications.
CAR-T ddPCR
Through ddPCR, measure the vector copy number of Chimeric Antigen Receptor (CAR) T-cells reliably and accurately.
COVID-19 Saliva test
A Sampled game-changer. In April 2020, Sampled (formerly Rutgers RUCDR Infinite Biologics) received the first FDA Emergency Use Authorization (EUA) enabling the use of saliva tests to detect the presence of the SARS-CoV-2 coronavirus. Since then, a revised EUA for an at-home saliva sample collection was also approved.
Informatics
Producing high quality, repeatable data generated by your samples is the end goal for us, but it is not where our services end
Sample Analysis & Discovery
At Sampled, we specialize in providing customized laboratory and scientific services for clients in the public and private research sectors. From traditional qPCR-based detection platforms to high-throughput microarrays, our automated processing systems allow for fast and accurate analysis of both human and animal samples. We also provide next-generation DNA gene sequencing services that can be optimized and scaled for virtually any organism or sample size from DNA samples.
Just some of our areas of expertise include (but not limited to):
Genomic Services
Genome analysis, whether it be in human, animal or a variety of organisms, whole genome, exome, or custom gene panel sequencing provides access to genomic information, discovery and translational (Clinical and Research) results to support a number of studies and products. These include, biomarker discovery, metagenomics applications, and within the healthcare setting, both hereditary and acquired disease/disorder discovery and treatment options.
Genotyping is the process of identifying and investigating genetic variants in an individual by sequencing their DNA and comparing it to that of another individual or a reference sequence. Minor genetic differences can have dramatic impacts on an individual's phenotype, from basic physical attributes to pathological changes associated with disease.
To support genomic advances in the medical and general research fields, Sampled offers pre-validated and custom genomic sequencing services and custom genotyping panels capable of analyzing hundreds or thousands of samples for specific targets as well as whole-genome studies. We also offer low-, medium-, and high-throughput gene sequencing and gene expression profiling and gene copy number analysis.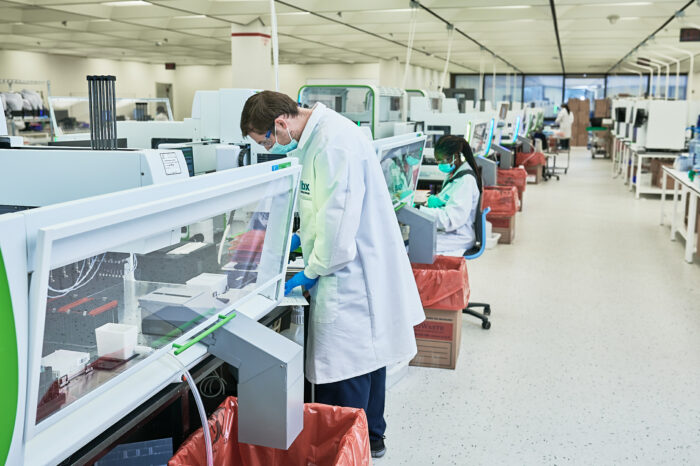 10x Genomics Certified Service Provider
We are proud to be a certified service provider for 10x Genomics and able to provide our clients with access to innovative solutions for single cell assays for Transcriptomics.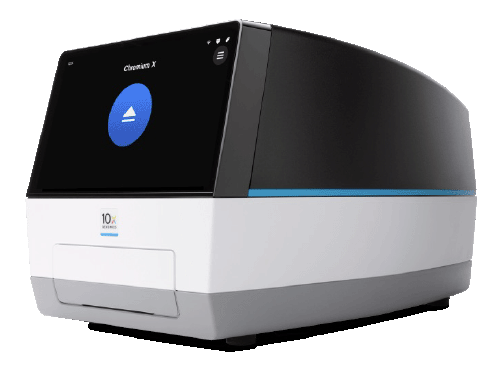 The 10x Genomics CSP program is only open to organizations who meet a high standard of technical and service requirements and are annually reviewed for each chosen application, which can include one or more of the Chromium Solutions:
Single Cell Gene Expression
Immune Profiling
Genome
Exome

Capabilities
Bioprocessing and biosample preparation, extraction, and analysis services include:
Fully automated solutions for:

DNA extraction
Liquid-handling during PCR reaction setup
Genotype calling and performance metrics
Microarray sample processing and array development
Library preparation for Next Generation Sequencing (NGS)

Integrated sample and data QC
Various chemistries available, including TaqMan®, SNPtype™, and somatic mutation
Custom functional assay designs and catalog array setups for BioMark™ systems
Array design and validation for:

TaqMan®
SmartChip
BioMark™

Custom assay panels for:

Seqstudio Illumina based Short-Long Read NextGensequencing
Pacbio Sequel II Long Read Sequencing
These services include assay design and wet-bench validation as well as genotyping reports at no additional cost.
Technologies
Our PCR, qPCR, DNA microarray, NGS, gene expression profiling, and copy number analysis capabilities are supported by the following high quality sequencing technologies:
ABI 7900HT rapid real-time PCR system with 96- and 384-well compatibility and robotic loading for high-throughput analyses
ViiATM 7 high-performance instrument for high-productivity real-time PCR processing
ABI QuantStudio 5 for PCR-based gene expression analysis
GeneChip and GeneTitan systems for Affymetrix genotyping products
Illumina iScan and MiSeq systems for Illumina genotyping products
Illumina short read sequencing: Miseq, NextSeq, Novaseq
Pacbio Sequencer Sequel II Long Read Sequencing
SeqStudio for targeted sequencing applications
Epigenomics
Epigenetics is the study of heritable changes in gene function or phenotype that are not attributable to DNA sequence alterations. In the medical research field, human epigenome studies are important for understanding how environmental or behavioral factors influence an individual's genetic susceptibility to disease.
Applications of epigenetic research include:
Characterizing the mechanisms of complex diseases such as cancer, heart disease, and diabetes
Identifying disease-relevant regulatory elements
Evaluating the biological role of DNA methylation in diseases
Capabilities
At Sampled, our advanced microarray and NGS platforms allow for rapid identification of epigenetic events across entire genomes. Specific services we provide include:
Bisulfite treatment (qPCR): Bisulfite DNA treatments convert cytosine residues to uracil while leaving 5-methylcytosine residues intact. The methylation status of the treated DNA segment can then be assessed using methylation-specific qPCR or direct sequencing.
Methylation microarrays: Medium- and high-throughput Illumina Infinium methylation arrays allow methylation sites to be interrogated at the single-CpG-site level.
Tiling arrays: Affymetrix GeneChip Tiling arrays enable the discovery of novel transcripts and provide site mapping of protein-DNA interactions across entire genomes.
ChIP-seq: Chromatin immunoprecipitation sequencing (ChIP-seq) of chromatin immunoprecipitated DNA enables rapid identification of DNA binding sites for transcription factors and other DNA-binding proteins involved in gene expression mediation.
Methyl-seq: Methylation sequencing (Methyl-seq) is a fast and economical method for detecting methylation patterns and revealing epigenetic modifications across whole genomes or within specific genomic regions.
Long Read Seq: Metagenomics studies, full-length transcripts sequencing, and genome-wide DNA modification analysis can detect epigenetic modifications across a number of applications and provide sequence data.
Technologies
Our epigenomic tools include:
Affymetrix GeneChip® and GeneTitan® systems for high-throughput genotyping and gene expression analyses
Illumina MiSeq, NextSeq500, and NovaSeq 6000 platforms, allowing for parallel sequencing of large sample sets
Pacific Biosciences (PacBio) SMRT instruments (PacBio Sequel) for several research purposes including whole-genome de novo genome assembly, full-length target sequencing, metagenomics studies, full-length transcripts sequencing, and genome-wide DNA modification analysis.
Covid
Sampled contributes to ongoing COVID-19 response efforts with fast and reliable testing and processing services. Our capabilities in this area include:
Saliva Tests
We offer saliva-based COVID-19 diagnostic testing services to organizations with large-volume or ongoing COVID-19 testing needs. Benefits of our FDA/EUA-authorized1, unsupervised saliva collection test includes:
Low-risk, contactless sample collection
Reduced invasiveness compared with nasal and throat swabs
Test availability not affected by swab shortages
Unsupervised sample collection (e.g., at home) to accommodate sick, quarantined, or high-risk patients
Results in 24-48 hours
High consistency with over 11,000,000 tests performed
Virus-inactivating buffer to reduce risk of spread during sample handling
High-accuracy PCR-based methods with multi-gene detection capabilities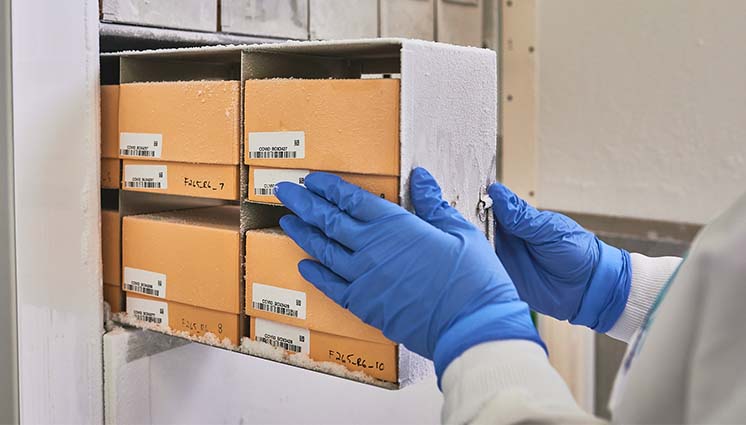 Our innovative and high-throughput COVID-19 testing services allow us to process up to 100,000 saliva samples a day. This involves optimized workflows and procedures for:
Receipt and accession
Aliquoting
RNA / Nucleic Acids extraction
Sample preparation
qPCR analysis and NGS
Reporting of results
-80C sample storage
Sequencing for strain determination
Informatics (Bioinformatics)
Bioinformatics is a field of computational science focused on developing methods and software for acquiring, storing, analyzing, and distributing biological data, usually in the form of DNA, RNA, or protein sequences. In the medical field, bioinformatics is often used for:
Discovering and characterizing new drugs
Supporting research in preventative medicine, personalized medicine, and gene therapy
Exploring genetic mechanisms of disease
Identifying population-based disease patterns
Analyzing and interpreting clinical or preclinical test results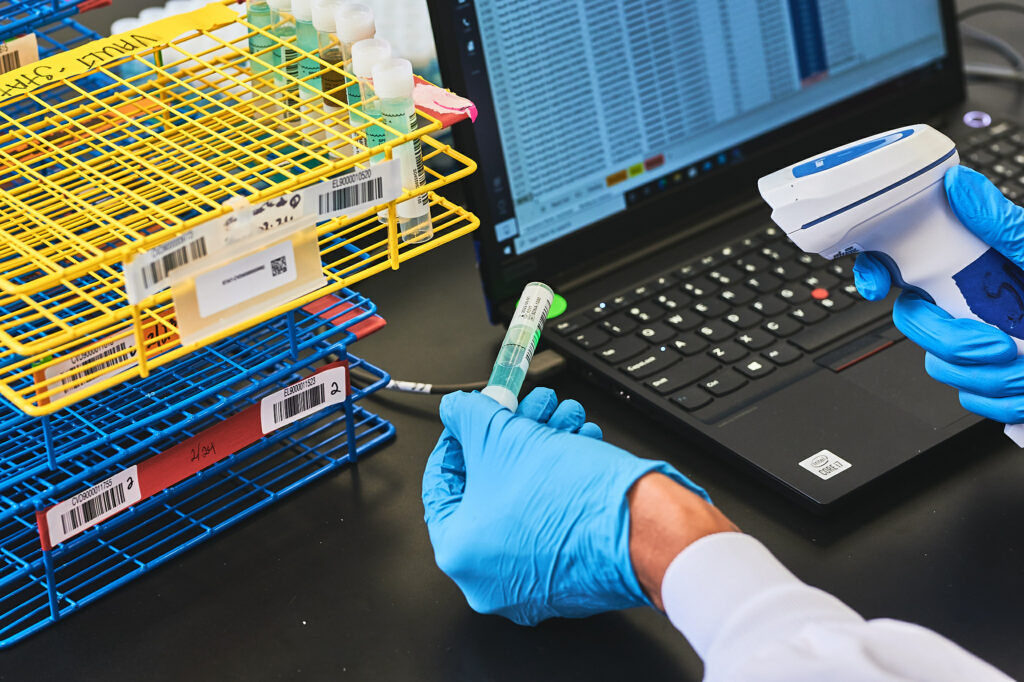 Sampled maintains one of the world's largest biorepositories and leads the research field in biobanking, bioprocessing, and analytics. Our bioinformatics services support the research community in analyzing, interpreting, and storing large sets of biological data for various medical and research purposes. Specific areas of support include:
Maintaining the integrity of biosamples over time
Helping researchers give context to large-scale, complex data sets
Allowing data to be analyzed and interpreted in a biologically meaningful way
Allowing existing data sets to be easily accessed and reused as needed
Contact Sampled for Analysis services
References:
The Infinity BiologiX TaqPath SARS-CoV-2 Assay is intended for qualitative detection of nucleic acid from Severe Acute Respiratory Syndrome Coronavirus 2 (SARS-CoV-2) in oropharyngeal (throat) swab, nasopharyngeal swab, anterior nasal swab, mid-turbinate nasal swab, and bronchoalveolar lavage (BAL) fluid from individuals suspected of COVID-19 by their healthcare provider. ZZZ When determined to be appropriate by a healthcare provider, this test is also for use with saliva specimens that are self-collected at home using the IBX Saliva Collection Kit or that are collected in a healthcare setting by individuals using the Spectrum Solutions SDNA-1000 Saliva Collection Device.

This test is also for the qualitative detection of nucleic acid from SARS-CoV-2 in pooled saliva samples containing up to 5 individual saliva specimens that are self-collected at home using the IBX Saliva Collection Kit or that are collected in a healthcare setting by individuals using the Spectrum Solutions SDNA-1000 Saliva Collection Device, when determined to be appropriate by healthcare provider.

The performance of this test was established based on the evaluation of a limited number of clinical specimens. Clinical performance has not been established with all circulating variants but is anticipated to be reflective of the prevalent variants in circulation at the time and location of the clinical evaluation. Performance at the time of testing may vary depending on the variants circulating, including newly emerging strains of SARS-CoV-2 and their prevalence, which change over time.

This product has not been FDA cleared or approved, but has been authorized for emergency use by FDA under an EUA for use by authorized laboratories. This product has been authorized only for the detection of nucleic acid from SARS-CoV-2, not for any other viruses or pathogens. The emergency use of this product is only authorized for the duration of the declaration that circumstances exist justifying the authorization of emergency use of in vitro diagnostics for detection and/or diagnosis of COVID-19 under Section 564(b)(1) of the Federal Food, Drug, and Cosmetic Act, 21 U.S.C. § 360bbb-3(b)(1), unless the declaration is terminated or authorization is revoked sooner.