What are the key benefits to Automated PBMC Isolation?
Researchers often need to isolate lymphocytes and other mononuclear cells from whole blood samples for research. To do this, researchers can employ PBMC isolation to prepare and isolate peripheral blood mononuclear cells (PBMCs) from whole blood via density gradient centrifugation. This typically involves the use of a density gradient centrifugation-based protocols to separate the PBMCs from other blood cells such as red blood cells and granulocytes.
PBMC isolation has come a long way since its inception, the process can now be automated using platforms such as the Hamilton EasyBlood. Here are 3 compelling reasons to outsource automated PBMC Isolation:
Increased Efficiency and Speed
Improved Consistency and Reproducibility
Reduce the Risk of Contamination
Increased Efficiency and Speed:
Automated PBMC Isolation can enable faster and more efficient isolation and purification of these cells, compared to manual methods. This can be especially beneficial for large-scale studies or clinical trials, where time and resources are often limited.
Improved Consistency and Reproducibility:
Automated PBMC Isolation can lead to more consistent and reproducible results. This is because automated methods rely on programmed protocols, rather than manual techniques, which could be subject to human error. Automation removes much of the variability that comes with the manual isolation process such as the dilution, stratification, and collection of mononuclear cells from the density gradient. This should be important for ensuring the validity and reliability of research findings.
Reduced Risk of Contamination:
Automated PBMC Isloation could also help mitigate the risk of contamination, which can occur during manual isolation and purification. This is important for maintaining the integrity of research samples and ensuring accurate and reliable results.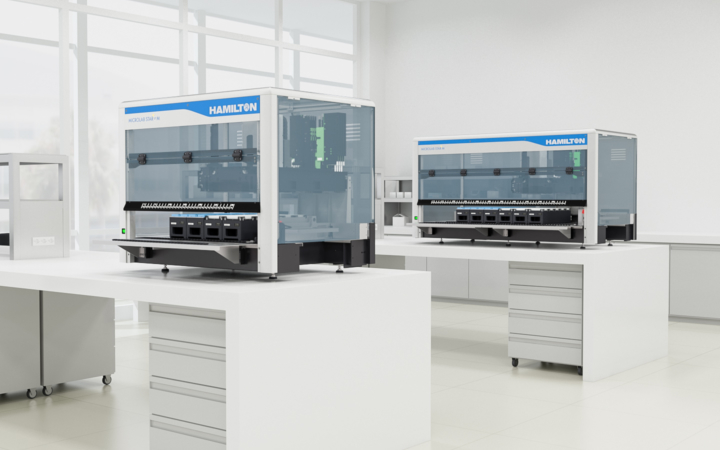 What Applications are PBMCs used for?
PBMCs can be used for a variety of downstream applications, such as:
Flow Cytometry
T-cell Activation Assays
Gene Expression Analysis
Flow Cytometry:
PBMCs are a commonly used cell population in flow cytometry, a technique that allows for the simultaneous measurement of multiple cellular parameters. PBMCs can be stained with fluorescent antibodies and analyzed by flow cytometry to identify and quantify different cell populations, such as T cells, B-cells, and natural killer cells. This can be useful for monitoring immune responses and identifying potential immune deficiencies.
T-cell activation assays:
T-cells, a type of white blood cell, play a critical role in the immune response. PBMCs can be used to isolate T cells and study the activation of these cells in response to various stimuli. This can be useful for understanding how the immune system responds to pathogens and for developing new immunotherapies.
Gene expression analysis:
PBMCs can also be used for studying gene expression, which refers to the process by which genes are transcribed into functional RNA molecules. PBMCs can be isolated and used for RNA sequencing or microarray analysis to study the expression of different genes in various cell types. This can be useful for understanding the molecular mechanisms underlying different diseases or for identifying new drug targets.
Why outsource Automated PBMC Isolation?
There are several reasons why outsourcing PBMC Isolation can be advantageous:
Expertise
Cost Savings
Turnaround time
Scalability
Quality Assurance
Access to specialized expertise:
Outsourcing PBMC Isolation can give researchers access to specialized expertise and equipment that they may not have in-house. This can be particularly useful for complex or specialized techniques, such as flow cytometry or cell sorting.
Cost Savings:
Outsourcing PBMC processing can be more cost-effective than setting up and maintaining an in-house processing facility. This can be particularly beneficial for smaller research groups or for projects with a limited budget.
Improved Turnaround Time:
Outsourcing PBMC processing to a third-party company can increase the speed at which samples are processed and reduce the time required for researchers to wait for results. This is especially true for projects where there are hundreds or thousands of samples to process.
Scalability:
Outsourcing allows researchers to scale up or down the number of samples processed with minimal investment in infrastructure or equipment.
Quality assurance:
Outsourcing to a reputable company or laboratory that has experience and Quality control in place, can ensure that samples are processed with high quality and consistency, and the data obtained is reliable.
Conclusion:
In conclusion, Automated PBMC processing has a range of benefits including increased speed, reproducibility and contamination risk reduction. These benefits support a range of applications and clients could further benefit from outsourcing to a partner like Sampled – enabling us to do the heavy lifting whilst you focus on your research projects.
If you're interested in learning about our Automated PBMC Isolation capabilities, talk to our team of experts today to learn more.