RNA extraction is a critical process in molecular biology, genetics, and medicine, which involves isolating and purifying RNA from biological samples such as cells or tissues.
Table of Contents
What are common application areas?
Gene Expression Analysis
Disease Diagnosis
Drug Discovery
RNA-based therapeutics
Forensics
Gene Expression Analysis
RNA extraction is used to study gene expression in cells, tissues, or whole organisms. By measuring the amount and type of RNA present in a sample, researchers can determine which genes are active or inactive and how they respond to different conditions or stimuli. This information can provide valuable insights into cellular processes, disease states, toxicity studies and drug responses.
Disease Diagnosis
RNA extraction is used in medical diagnostics to detect the presence of RNA viruses, such as SARS-CoV-2, Ebola virus and Hepatitis C. The RNA extracted from patient samples, via nasal swabs or blood samples, is analyzed to detect the presence of viral RNA. RNA extraction is also used to detect RNA molecules that are indicative of specific diseases, such as cancer. This is because RNA is thought to alter which proteins are produced, in cancer patients, these changes may lower levels of proteins that kill cancer cells or increase proteins that prompt a cancer cell to keep dividing. By identifying specific RNA markers, physicians can diagnose diseases earlier, monitor disease progression, and develop targeted therapies.
Drug Discovery
DNA extraction is a critical tool in drug discovery and development. By studying the RNA expression profiles of cells or tissues treated with various drugs, researchers can identify potential drug targets and evaluate the efficacy of different compounds. RNA extraction can also be used to identify biomarkers that can be used to predict drug responses or monitor disease progression in clinical trials.
RNA-based therapeutics
In recent years our understanding of RNA functions and their roles in diseases has led to the application of various RNAs to selectively function on "undruggable" proteins, transcripts and genes. By isolating and utilizing specific RNAs (such as mRNA) researchers are now able to broaden the therapeutic targets in disease states such as Duchenne muscular dystrophy, spinal muscular atrophy and COVID-19. Several RNA-based medications have been approved for clinical use, while others are still under investigation or preclinical trials.
Forensics
RNA extraction can be used in forensics to identify individuals based on their RNA profiles. RNA is an abundant molecule that can be extracted from various tissues, including hair, skin, and blood. By comparing RNA profiles between crime scene samples and suspect samples, forensic scientists can identify suspects or exonerate innocent individuals.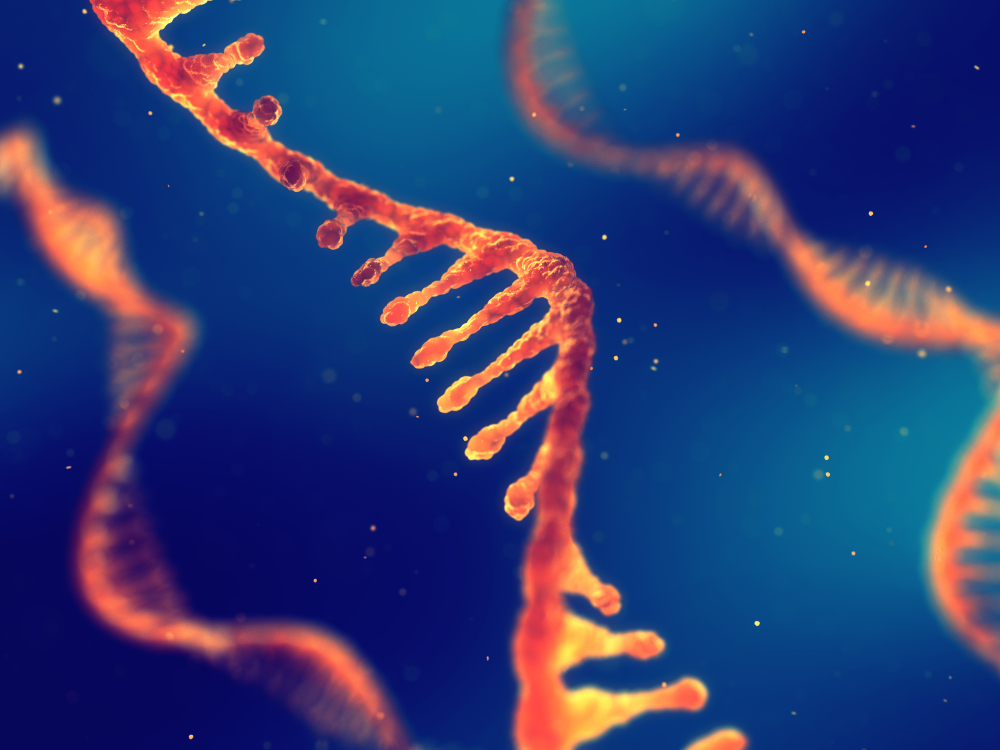 How is RNA Extraction Performed?
RNA extraction is a crucial process in molecular biology, genetics, and medicine, which involves isolating and purifying RNA from biological samples such as cells or tissues. Obtaining high-quality RNA is often the first and most critical stage in performing several common molecular techniques including reverse transcription real-time PCR (RT-qPCR), digital droplet PCR and cDNA library construction. The process of RNA extraction broadly involves the following steps:
Sample Preparation: The initial preparation steps differ depending on the source that the RNA is to be extracted from. For example, if RNA is to be extracted from bone samples, then the lytic agent or denaturant may not make contact with the cellular contents at the moment the cells are disrupted. Therefore, these samples may require freezing before starting the extraction process.
RNA preparation: Several RNA preparation methods can be used which can be summarized into 4 general techniques

Organic extraction methods: Often considered the "gold standard" for RNA preparation

Filter-based, Spin basket formats: Which utilize membranes that cell lysate pass through, allowing for the isolation of nucleic acids containing RNA.

Using Magnetic Particles: Magnetic particles bind to RNA due to surface modifications on the particles which are then collected using an external magnetic field and easily removed and washed

Direct lysis methods: Using lysis buffers, cell or tissue samples are disrupted and release cellular contents before being purified.

Quantification of Isolated RNA: RNA that has been isolated from cells undergoes further purification and quantified using UV spectroscopy, fluorescent dyes or instruments that employ a combination of microfluidics, capillary electrophoresis and fluorescent dyes to evaluate RNA concentration levels.
RNA Purification and storage: Finally, the isolated RNA is purified to remove any impurities such as proteins or residual DNA that could interfere with downstream applications. After purification the RNA is suspended as a purified RNA pellet and stored for future use or used immediately.
RNA extraction must be performed carefully to minimize RNA degradation, which can occur due to endogenous RNases, mechanical or chemical damage, or improper storage. RNA extraction protocols may vary depending on the sample type and the downstream applications, and there are several commercially available RNA extraction technologies that can simplify the process and improve RNA yield and purity. One of these used by Sampled is the PAXgene® Blood RNA Tube which is designed for stabilization of intracellular RNA, supporting robust processes further downstream with a higher level of reproducibility.
Why Outsource RNA Extraction?
Expertise – Processes performed by experts with extensive experience in RNA extraction protocols. Sampled SMART Labs feature state-of-the-art facilities, technology, and capabilities, which can lead to higher-quality RNA yields and fewer technical errors.
Turnaround Times – Outsourcing could save time and reduce costs compared to performing the process in-house. E.g., Sampled could be able to offer a faster turnaround time and have a higher capacity to handle larger sample volumes, resulting in faster and more cost-effective RNA extraction.
Scalability – Sampled can flexibility and scalability, allowing researchers to focus on the analysis while leaving the RNA extraction to us. Sampled are also able to offer customized solutions to meet specific research needs or aims.
RNA extraction is a crucial process in molecular biology, genetics, and medicine. It plays a vital role in gene expression analysis, disease diagnosis, drug discovery and forensics. Constant developments from technology providers and researchers, RNA extraction will remain an essential tool for researchers and clinicians in the years to come.