RNA sequencing (RNA-Seq) was developed over a decade ago and has since become a crucial tool in molecular biology that has shaped nearly every aspect of our understanding of genomic function. This is because it provides scientists with insights into previously undetected changes occurring in disease states, under different environmental conditions, in response to therapeutics and across a wide range of other study designs. However, due to the specialist knowledge needed and high costs associated with procuring and maintaining RNA-Seq platforms, many companies and groups are unable to purchase the required platforms to sequence their samples. In response to this, more and more investigators are turning to companies that can provide RNA-Seq services instead. Generally, the workflow is as follows:
After agreeing to how the samples should be sequenced, the client sends them to the service provider
The service provider will then sequence the samples as per the clients' requested sequencing parameters
The service provider sends the raw data and (if they have the ability) the analysis report to the client
Unfortunately, not all companies who provide such services are equal in their offering and not having the right considerations in place before you work with them can result in a loss of time and resources. In this article, we outline four key considerations before outsourcing your samples for RNA-Sequencing.
Level of expertise and offerings
First, it should be noted that every service provider who offers RNA-Seq services will have different Next Generation Sequencing (NGS) technology platforms to process your samples on. Moreover, some service providers are offered an opportunity to become "Certified Service Providers" for a specific vendor, but only after they have met their rigorous analytical standards. Having a service provider who is also a CSP ensures that the scientists who are handling your samples are highly trained, capable and have the highest level of expertise. To learn more about certified service providers click here.
Another aspect of expertise that varies between service providers is the ability to provide data analysis and assist in experimental design. Sampled prides itself on aiding researchers who are either new, or unsure of, the best approach to take as it pertains to RNA-Seq. This level of assurance is crucial for investigators who are scaling up their research because it allows them to obtain their data efficiently, without wasting time or resources.
In addition to finding certified service providers, expertise is important for when you require specific types of data analysis. Examples include single cell RNA sequencing (scRNA-Seq), analysis or whole-genome analysis (structural variants, copy number variation, etc.). Not all companies have a bioinformatics team or platform to assist with data analysis which is a part of the service which would be crucial for investigators who are inexperienced with sequencing.
When considering single cell RNA sequencing designs, one of the most common challenges is the ability to capture the gene expression profile of individual cells so that the sequencing data appropriately reflects the activity of the cells at their time of collection. This is critical when performing time-lapse experiments that require cells collected at different time points, yet require a singular sequencing run. Our experts can work with researchers to select the right transportation and sequencing platforms to ensure that gene expression is preserved for scRNA-seq.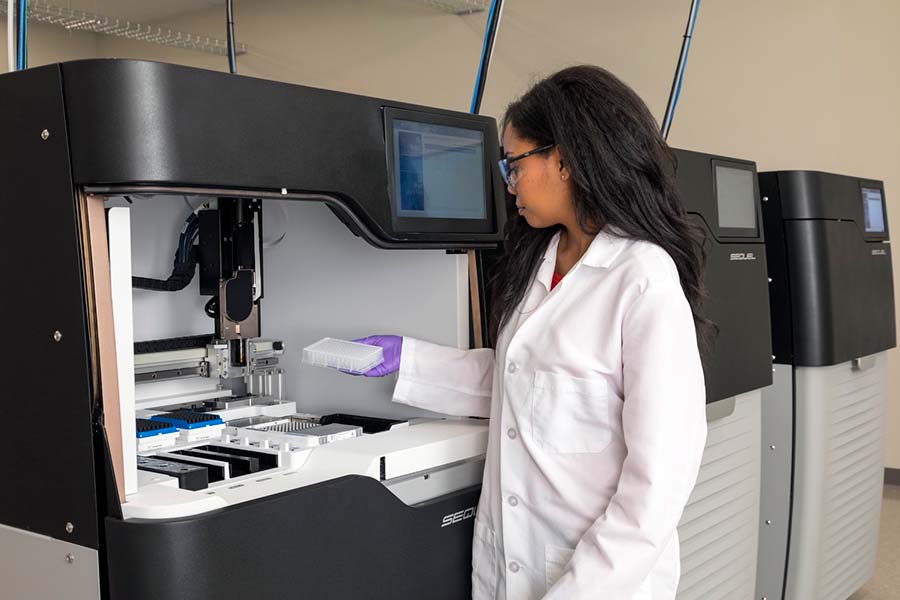 2. Turnaround times for RNA-Sequencing projects
Research is moving faster than ever, and it is imperative that researchers meet deadlines and deliver on time. Depending on the level of work to be undertaken, some service providers may not be able to sequence samples as quickly as others. The need for nucleic acid extraction, processing, number of samples/batches and downstream analysis can affect overall turnaround time. Typically, 100-200 samples that undergo routine sequencing can take 3-4 weeks and if there are changes to the project design affecting the number of samples and require additional work, more time is required.
At Sampled, we account for these unexpected occurrences and have been an infrastructure with redundant capabilities including multiple short-read sequencers, duplicate PacBio long-read sequencers, and multiple liquid handlers for library preparations. In addition, we also have an automated workflow for 10X single-cell genomics processing. This allows for numerous samples to be added into a production queue in a timely manner. By having a wide array of platforms in duplicate or even triplicate, we can provide turnaround times of as short as 2 weeks for certain projects should they need to be expedited.
3. CLIA approved services
The Clinical Laboratory Improvement Amendments (CLIA) regulate laboratory testing and require clinical laboratories to be certified by the Center for Medicare and Medicaid Services (CMS) before they can accept human samples for diagnostic testing. Laboratories can obtain multiple types of CLIA certificates, based on the kinds of diagnostic tests they conduct. Labs that are involved in clinical trials are able to outsource their research to service providers but require them to be CLIA certified. Sampled has numerous CLIA approved assays which allows researchers to be compliant with federal regulations when working with samples that are involved in clinical trials.
4. Expenditure
While pricing for different services will inevitably vary, there are ways of potentially reducing costs and saving overall on the budget allocated for operational costs. Sampled offers a wide array of services beyond NGS, including data analysis and long-term storage capabilities (including cell lines and DNA/RNA samples). Rather than storing the samples yourself after they have been processed, it could be cheaper to store them with the lab that ran the sequencing instead. Sampled offers a wide range of biorepository solutions as well as downstream processing services that can be bundled to potentially save expenditure to labs that may require these services. To learn more about our wide range of storage solutions, click here.
Selecting the right sequencing partner can be tricky, which is why at Sampled our experts work with clients to ensure that the right platforms and experimental design are selected based on their needs. If you would like to talk to a member of our team to learn more, click here to get in touch with us.