Stability storage is a critical component of the pharmaceutical, medical device and life science industries. It plays a crucial role in early-stage product development to late-stage follow-up stability studies. These studies are critical because they provide evidence on how the quality of a drug substance/product/packaging varies with time under the influence of environmental factors such as temperature, humidity, and exposure to light. This evidence can then inform the shelf life for the substance/product and recommend storage conditions for the end user.
However, when it comes to stability storage, companies face a choice between outsourcing the service or setting up their own internal stability storage facility which can come with large capital expenditure costs. In this article we will cover the benefits and challenges of both options.
Skip To: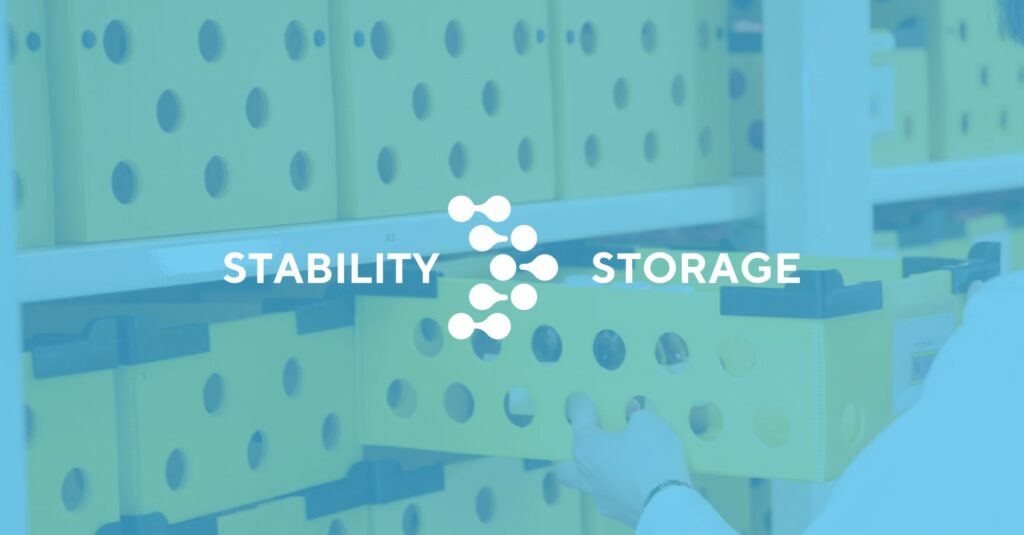 Cost of setting up the facility
One of the most significant differences between outsourcing stability storage and setting up your own facility is the cost. Unsurprisingly, setting up an in-house stability storage facility requires considerable capital expenditure as well as running costs. Companies need to buy equipment such as environmental chambers, power backup systems, and monitoring systems. Moreover, there are increased variable and fixed costs due to these investments.
Beyond the large upfront capital expenditure (Capex) required to buy the necessary assets, there is the cost associated with either hiring or training staff to run the stability storage facility and initial/ongoing maintenance and qualifications as well. If your free lab space is limited, setting up a stability storage facility may not be the answer, especially if you have large or a high number of samples and products that require testing. This consideration should not be taken lightly if your labs are based in a city where the cost per square foot is high.
On the other hand, outsourcing stability storage allows companies to avoid the large upfront CapEx associated with setting up and maintaining an in-house facility. Outsourcing providers already have the necessary equipment and infrastructure in place, and clients can often use the facilities on a per-project basis, making it more cost-effective. Outsourcing can also provide a layer of flexibility that in-house operations may not.
Training and Expertise
Setting up your own facility requires specialized skills and knowledge which your staff will not possess unless they come from a stability storage background. Therefore, research groups will have to heavily invest in hiring or training staff with expertise in validation, calibration, and equipment maintenance. Additionally, they will need to have an in-depth understanding of regulations, standards, and best practices for stability storage as laid out in The international Council for Harmonization of Technical Requirements for Pharmaceutical Use (ICH) guidelines.
Outsourcing stability storage can remove these issues since providers are already highly experienced in this area and have trained experts to manage your precious samples. This expertise can help clients avoid regulatory compliance issues, technical problems, and remove human errors that can ultimately lead to product failures, recalls, and loss of reputation. Similarly, by outsourcing your stability storage you gain peace of mind by knowing your samples are going to be stored in the correct manner according to best practices and guidelines laid out by ICH. Rather than becoming experts in stability storage yourself, you can focus on the research that matters most to you.
Scalability
Another significant difference is the ability to scale your stability storage requirements. Outsourcing this as a service provides the flexibility to match capacity and resources with needs with minimal delay. This is because providers have enough stability chambers, experts and space in-house that they can scale up as your research does. Companies can increase or decrease stability storage capacity as their pipelines expand or contract, without investing more money in equipment or space which saves on capex and ensures deadlines do not need to be extended.
In contrast, an in-house model has limited scalability potential since companies need to invest in equipment and infrastructure to keep up with demand. They may also find themselves with excess capacity during low use periods, leading to operational inefficiencies and additional costs. This is especially a concern for labs based in cities where the cost per square foot is high.
In conclusion, outsourcing stability storage provides many advantages over setting up your own facility, especially in terms of cost, training and expertise, and scalability. Researchers should always ensure that their stability storage meets the highest quality standards and conforms to industry regulations and guidelines.
Outsourcing stability storage to Sampled
At Sampled we have decades of experience in stability storage and a 30,000 sq ft MHRA cGMP licensed facility based in Glasgow, UK where thousands of samples are stored and managed every year.
Our highly trained experts work with clients to safely and correctly store samples in accordance to cGMP and the guidelines and best practices laid out in ICH.
Our facilities can store a huge variety of products including (but not limited to):
Pharmaceutical samples
Clinical trial material
Bulk pharmaceutical chemicals
Cosmetics
Nutraceuticals
Vaccines
Medical devices
Animal health
By outsourcing stability storage to Sampled, you could save on CapEx, lab space and focus on the research that matters most to your group instead of becoming experts in stability storage. Reach out to our team today to discuss your project.