It goes without saying that executing accurate and reproducible scientific research is at the heart of any successful research group or biotech. However, as research progresses so inevitably does the number of cell/tissue samples increase from a manageable level to thousands, or even hundreds of thousands of samples. At a certain point a limit is reached whereby the number of samples that must be stored or managed simultaneously becomes too much to handle internally. Having an endless sea of cells in a spreadsheet, or worse, multiple spreadsheets that are each updated without proper cross-communication, could easily lead to samples being misplaced. How academic groups and businesses manage their ever-increasing numbers of samples from various studies invariably becomes a hurdle to overcome for their continued success.
Why rigorous sample management matters
When academic groups and scaling biotech companies grow, the obvious hurdle that they must overcome is how to scale their sample management appropriately. This means at a certain point in time, it is no longer feasible for them to rely on one or more scientists to spend ever increasing amounts of time barcoding, labeling and digitally storing the information on a spreadsheet. What if the spreadsheet isn't updated correctly? What if the file becomes corrupted and information is lost? These are frighteningly common situations that could spell disaster as precious samples that cannot be replaced become unidentifiable forever.
Not only is there an increasing amount of time dedicated to correctly labelling, sorting and storing samples, the time and resources dedicated to sample processing also increases greatly too. For example, blood samples would need to be fractionated into constituent components, including peripheral blood mononuclear cells, plasma or serum and red blood cells. Each fraction would then have to be cryopreserved under controlled conditions and stored. Likewise, for DNA and RNA samples extracted from tissues (e.g., blood) concentration, purity and identity must be determined prior to storage. These bioprocessing steps require more time and resources as the number of samples increases.
These are just a few reasons many companies and research groups turn to Sampled to manage and store samples on their behalf. Sampled utilizes LIMS software to ensure that each time a sample is handled, analyzed or stored, the sample is scanned via its barcode and the activity is logged. Tracking the chain of custody from the moment a sample is picked up from a client's lab to the moment it is stored in a freezer ensures full transparency and great precision in real time.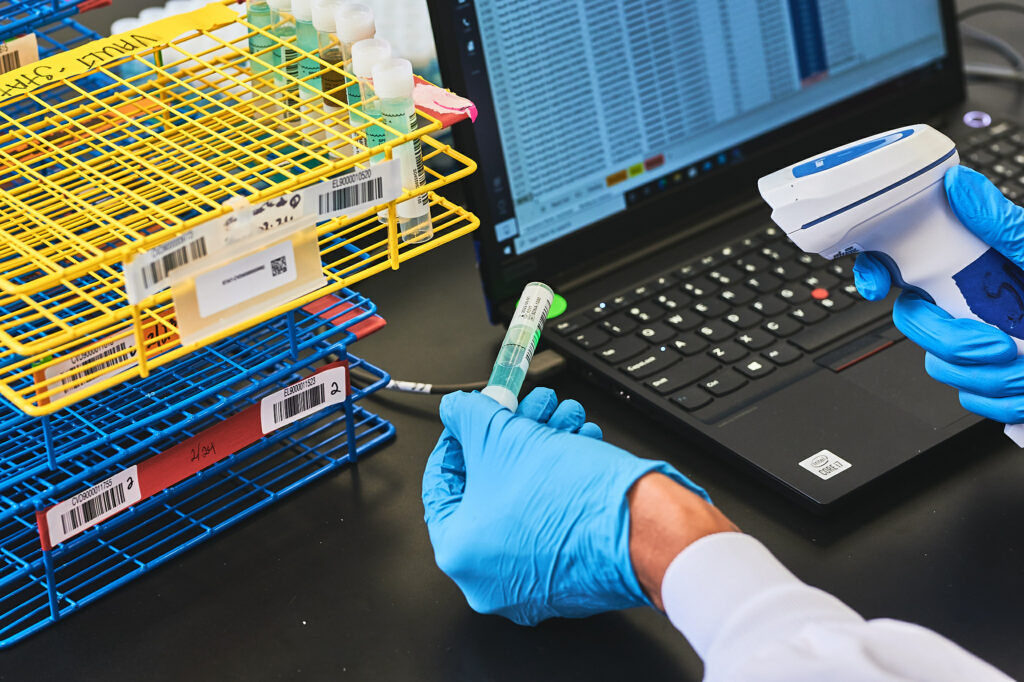 Navigating the maze of shipping samples
It is well known that sample handling errors almost always occur in the field, this can be because a phlebotomist has mislabeled a blood sample, for example. It is therefore necessary to have the staff and resources to be able to understand how these errors occur as well as what the regulatory and customs agencies of various countries require for efficient shipping. Most scaling businesses simply cannot dedicate the required staff or time to deal with these inevitable hiccups which is where Sampled can help. Since we have trained staff on hand, we take care of all shipping and handling to remove the headache of paperwork from businesses so they can focus on what they do best. Our staff prepare customized kits for clients so that they simply fill the pre-barcoded sample vessels and ship them in the appropriate cryovessel we provide. Using our LIMS system, we can ensure that the correct samples arrive at the right place at the right time. At each stage the samples are scanned to ensure a clear chain of custody which is crucial for certain clients such as those looking to capture this data for clinical trials.
In short, Sampled can make a real impact by correctly managing and even storing client's samples using properly trained staff and LIMS software. In doing so, researchers focus on the important research that matters, instead of tracking down lost samples or wasting time on the phone talking to customs agents.
If you would like to contact one of our experts about how Sampled provide sample management solutions that are tailor-made to your research, click here