Introduction:
Due to the complexity of clinical trials, high performance partnerships are paramount. The crucial role of Clinical Research Organizations (CROs) and sponsors is well established, but an underutilized relationship exists with specialist lab services. Picture a triangle, where each corner represents a pivotal partner in this relationship: the CRO, Lab Services, and Sponsor. How each partner approaches this relationship dictates the success not just of the working relationship from a logistics standpoint, but more importantly can influence the success of the trial itself.
Traditional Model: CROs & Sponsors
Traditionally the relationship between CROs and sponsors was a straightforward bilateral partnership. The CRO, with its expertise and infrastructure, would support sponsors in the design, management, and oversight of clinical trials. Whereas the Sponsor would define the requirements and scope as the product owner and financier.
Triangulating Success: Leveraging Lab Services Partners
Bringing a lab services partner such as Sampled on board can play an essential role in ensuring the integrity, reliability, and accuracy of clinical trial data. The results produced by our laboratories have a huge impact on the ultimate success of a trial. Let's look at how this relationship adds value to both CROs and Sponsors whilst protecting the trusted relationships CROs hold with Sponsors.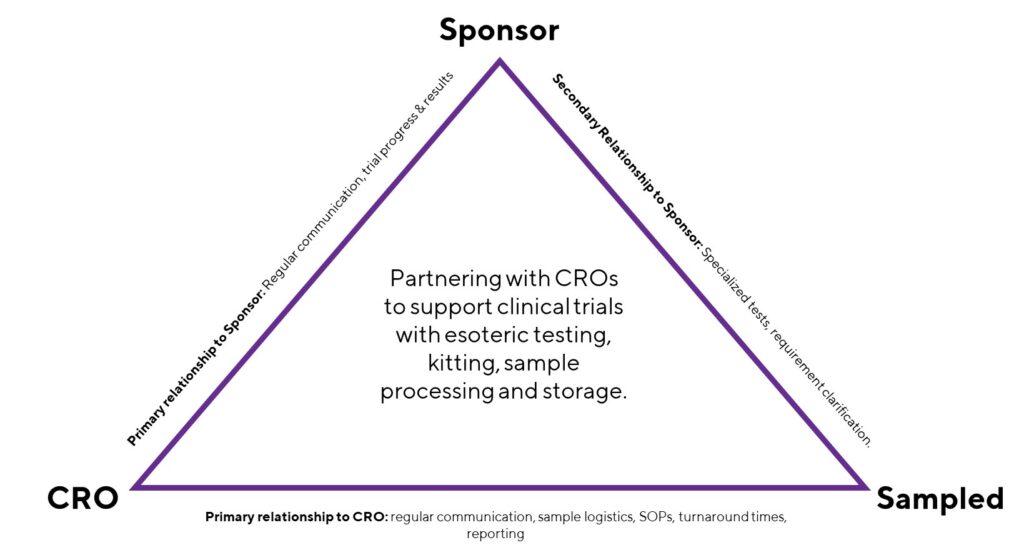 Esoteric Testing with Lab Services: Whilst many CROs are capable of routine testing, there is often a need to outsource more esoteric testing to a lab services partner with access to a broad range of leading edge multiomics technologies, what is classified as esoteric testing for most CRO's is the core competency of specialized multiomic lab services provides that work closely with the tools providers for early adoption of new technology platforms.
CRO-Lab Services Synergy: By collaborating closely with lab services, CROs ensure that the trial's protocols are meticulously followed, and data is collected and analyzed to the high standards set by regulatory bodies and the sponsor. This partnership allows the CRO to focus on quality assurance and regulatory compliance opposed to sample logistics and testing.
Reduced Burden on Sponsors: The primary relationship sponsors maintain is with the CRO. With lab services directly aligned with CROs, sponsors can rest easy, knowing that a cohesive unit is working to meet their objectives, without having to micromanage each component – only dealing with the lab services partner on specific esoteric testing requirements.
Secondary Channels of Communication: The secondary relationship each party holds with one another (CROs with sponsors, lab services with sponsors, and CROs with lab services) ensures there are direct lines of communication on specific issues like esoteric testing requirements. These communication channels ensure primary relationships are maintained whilst still enabling clear communication.
Benefits of the Triangular Dynamics:
Efficiency: Streamlined communication between the three entities reduces lag and expedites processes.
Flexibility: With three informed stakeholders, adaptability to unexpected challenges becomes easier.
Quality Control: With specialized entities focusing on their core competencies, the likelihood of errors diminishes.
Holistic Approach: The combined insights of CROs, lab services, and sponsors ensure a comprehensive view of the trial, from design to results.
Availability of comprehensive multiomic platforms with standard and custom assay design.
Integration of Biorepository, Analytic services and sample processing.
Conclusion:
Triangulating success in clinical trials – CROs, lab services, and sponsors – this amounts to more than three organizations operating in parallel towards the same goal. It is a high-performance partnership between specialist organizations working as a team towards executing a successful clinical trial. This partnership maximizes efficiency, ensures quality, and fosters innovation. As the world of clinical research continues to evolve, triangulating these relationships should be the cornerstone of success for sponsors and the broader scientific research community.
To learn more about how we can partner with CROs, speak to our team of experts today.