How can we help with sample management?
Sample Management
We address our biosample processing practices from start to finish cultivating strategies to eliminate errors and preserve the integrity of each biosample.
Bioprocessing
We provide a full suite of bioprocessing functions, which include automated sample aliquoting, automated blood fractionation, normalized biomaterial aliquoting and distribution, and tissue preparation.
DNA/RNA Extraction
Our team comes with a wealth of study design and protocol development. We apply this knowledge and expertise to ensure the right technique is utilized for each requisite tissue/sample type.
Sample Data Management
We deploy robust informatics systems and procedures aimed at not only the preservation of each biosample but also the information it contains. Sampled protects information for both patient and client and maintains highly secure sophisticated LIMS systems.
Disaster Recovery
Ensuring that your stability trials survive. If the worse should happen have you got a back-up plan, you've got buildings, business, public, and vehicle insurance, shouldn't your samples be insured too and be stored safely offsite?
Validation
Sampled's market-leading wireless technology, not only gives clients the most accurate results available in the industry, but also with the least amount of impact on your daily operations, allowing you to focus on your core activities.
Service
Tailored specifically to suit your individual needs and budgets. When working with Sampled, you not only get a cost effective service, but also access to their highly experienced team of experts. Their team will work with you to make sure you are receiving the seamless service you have come to expect.
Informatics
Producing high quality, repeatable data generated by your samples is the end goal for us, but it is not where our services end
Biosample Management Guide
Our goal is to highlight the inner workings of biosample management. To the layman, a specimen sample is merely a guidepost to gaining clarity on a health matter. However, so much more is involved in biosample processing and management. Biosamples are a necessary component of scientific discoveries and therapeutic interventions. Researchers use biosamples in various applications to better understand the complex molecular activity that are precursors for many hard-to-treat diseases and conditions. [3]
What Goes into Sample Management?
Proper management of samples is critical to the accuracy and reliability of testing, and, therefore, to the confidence in laboratory diagnosis. Many laboratory processes fall under the umbrella of sample management such as:
Biosample Collection Framework
Developing a suite of collection protocols is common for most relevant clinical-based environments (I.e., laboratories, hospitals, biorepositories, blood banks etc.). The logistics are customizable and unique to each type of clinical entity. The biosample collection protocol or framework puts written instructions in place towards the specified study and requirements indicated by the client in the form of a specimen collection kit.
A specimen collection kit is customizable towards specific client and answers questions such as:
How many samples are needed?
How many patient variables will be factored into the collected samples?
How will the data be managed?
How long will the samples remain viable following retrieval?
How long have the samples been stored and how?
What upstream and downstream processes will the samples undergo?
Simple collection kits are typically labeled with a corresponding QR code and serve as the starting point for data collection as well as specimen collection. Information such as participant ID, consent, biospecimen, assay results, and questionnaire responses can be linked via the QR code and immediately uploaded to a laboratory information system and tracks all transition points going forward. With LIMS technology, reports can be easily generated and all information regarding the patient biosample is easily accessible. [3]
LIMS Registration and Qualifications
A LIMS (laboratory information management system) provides one location for all laboratory processes along with the methodology of how data is stored and managed.
LIMS registration process involves giving the sample a unique barcode for both identification and tracking purposes. It may also have additional data points giving. This is a procedure whereby the lab assigns a designated individual, group, or department control over certain elements pertaining to the specimens, record-keeping, data maintenance, and management.
Designating a certificate of conformity (CoC) provides greater accountability by tracking and documenting each step in the testing and analytic process. Typical CoC procedures include securing a private collection station, confirming donor IDs, and ensuring the sample corresponds correctly to the donor paperwork by placing a unique barcode both the specimen container and the CoC form. Completing the registration leads directly to testing the system capabilities. The LIMS should be able to produce a series of compiles login reports, sample conditions, results, and detailed tracking reports.
LIMS qualification steps include system selection and validation planning. The vendor will in most cases assess your system requirements and guide the installation process. In some cases, the vendor will also guide both the operational and performance qualification process to make sure all the bugs are worked out. Your LIMS system should be updated regularly to ensure regulatory compliance.
Laboratory Sample Accessioning
Laboratory sample accessioning is a term used to describe the receiving of biosamples by laboratory personnel. Each package is scanned upon arrival at which time the sample collection forms, and individual sample are reviewed for accuracy. During the accessioning process, samples are automatically assigned to project specific services. [2.3]
Storage and Transport of Biosamples
The storage and transportation of biosamples is generally overseen by the CoC or the Cold Chain logistics manager. Packaging and shipping of human biospecimens must adhere to any applicable regulations and standards while also ensuring the contents remain at recommended the recommended temperatures.
Transporting biosamples requires approved cold-storage containers and temperature sensors. It also requires the necessary data captures to maintain up-to-the-minute tracking and reporting. Storage of the biosamples is dictated by biomaterial type, intended analytic process, length of storage, and any customary specifications made by the ordering client. [3]
Sample Bioprocessing and Usage
Bioprocessing of samples speaks directly to how they are used – in terms of both research experimentation and diagnostic capabilities. The biorepository laboratory is responsible for extensive handling of biosamples from the moment they are received to the moment they are set for long-term storage or placed in motion for downstream processing. [3]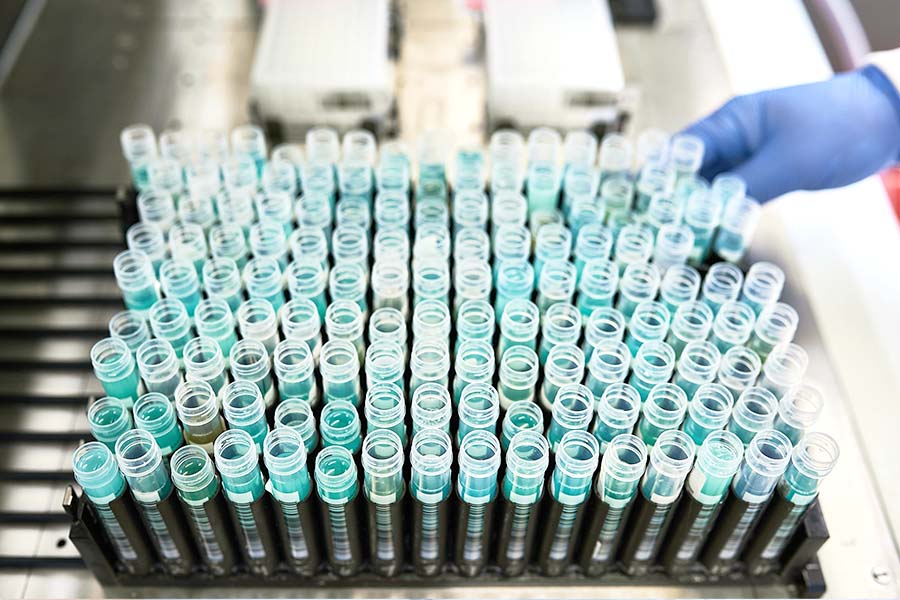 Lab Standard Operating Procedures
A Standard operating procedure (SOP) is a set of written instructions that describes, in detail, how to perform a laboratory process or experiment safely and effectively. Labs are required to have written SOPs in place when work involves the use of hazardous materials (chemical, radioactive, and biological) or physical hazards. SOPs should be written by laboratory personnel who possess extensive knowledge of every detail involved with commonly performed experimental processes. [1,2,3]
SOPs normally address a myriad of safety concerns and recommendations including:
Type, quantity, and nature of the chemical used with a visible safety data sheet (SDS) listing important information regarding potential hazards such as toxicity, flammability, reactivity, warning properties, and symptoms of exposure.
Location of use, including fume hood or other containment devices.
Exposure risk and prevention.
Location of all safety equipment, including personal protective equipment and instructions on use.
Waste collection, storage, and disposal requirements.
Decontamination procedures.
Emergency procedures.
Stages of Bioprocessing: Upstream and Downstream Processing
Upstream bioprocessing refers to the set of processing tasks aimed at the development of microorganisms including nutrient preparation, cell culture, cell separation and harvesting.
Downstream processing refers to set of operations required to take biological materials, such as cells, tissue culture fluid, or plant tissues, and derive product samples for which further molecular testing and analytic procedures can be performed.
Bioprocessing Applications, Services, and Biotechniques
Full-service biorepositories commonly integrate laboratory functionality into their offerings. By providing a vast range of expanded applications using proprietary tools and devices, they serve as a major resource to the biological science community.
DNA/RNA Extraction
DNA and RNA extractions are at the heart of biological research. With pure DNA and RNA samples, genetic testing becomes possible. They are specifically helpful for their potential in predetermining adverse health issues. Clinical study teams use the analytic data obtained to also identify specific biomarkers for diseases and conditions as both serve as valuable tools. Applications using DNA are vast and contribute significantly to many areas, such as forensic science, while RNA is geared more towards genomic applications.
Cell Line Establishment
Cell line establishment is a major tool within the context of scientific research. Cell line development and engineering represent many of the biological tools used to create large-scale vaccine projects such as the Covid-19 novel mRNA-based vaccine. Other cell-line applications include:
Drug testing for metabolism and cytotoxicity
Antibody production
Genomic applications and study
Generation of artificial tissues (e.g., artificial skin)
Synthesis of biological compounds e.g., therapeutic proteins
Sampled provides many different types of cell line development and testing services. Most notably, are Lymphocyte cell lines (LCLs) which are established from anticoagulated whole blood or cryopreserved lymphocytes utilizing Epstein Barr virus (EBV) as a transformation agent. This service includes expansion and cryopreservation of EBV transformed LCL stocks, testing of cryopreserved stocks to ensure viable LCLs, and mycoplasma testing via real time PCR assay.
Stem Cell Cultures
Stem cell research is a growing field as it has amazing potential for contributions in regenerative medicine. There are three main types of stem cells: Embryonic stem cells (ES) adult-stem cells and induced pluripotent stem cells (iPS). Many clinical applications highlighting stem cell activity show tremendous opportunities for applying their unique ability to become reprogrammed into any type of cell in the body – including fibroblasts and lymphocytes.
It is not uncommon for biorepositories to offer a full scope of stem cell laboratory services. For example, Sampled is an active resource that provides the highest quality induced pluripotent stem cells in addition to comprehensive quality control testing services. Sampled scientists specializing in stem cell research provide an assessment of pluripotency using whole genome transcriptomics and marker expression to genomic integrity evaluation using karyotyping and array CGH.
RNA Extraction / DNA Extraction (Nucleic Acid Extraction)
NAE or nucleic acid extraction is a primary method for which advanced downstream application begin. The methods of extraction vary and is one of the more important tools in molecular analysis. Extraction is achieved by rupturing tissues and cells and removing the proteins and other constituents from the nucleic acid itself. They are then introduced to a buffered solution that allows them to be preserved. Other methods include using a solid phase process to bind the constituents to solid supports.
Many large-scale biorepositories enlist the use of automated nucleic acid extraction systems and devices to facilitate nucleic acid extraction. Other tools and devices used to achieve extraction include:
Spin columns
Magnetic beads
Liquid handling robots
Lab-on-a-Chip Cartridges
Microfluidics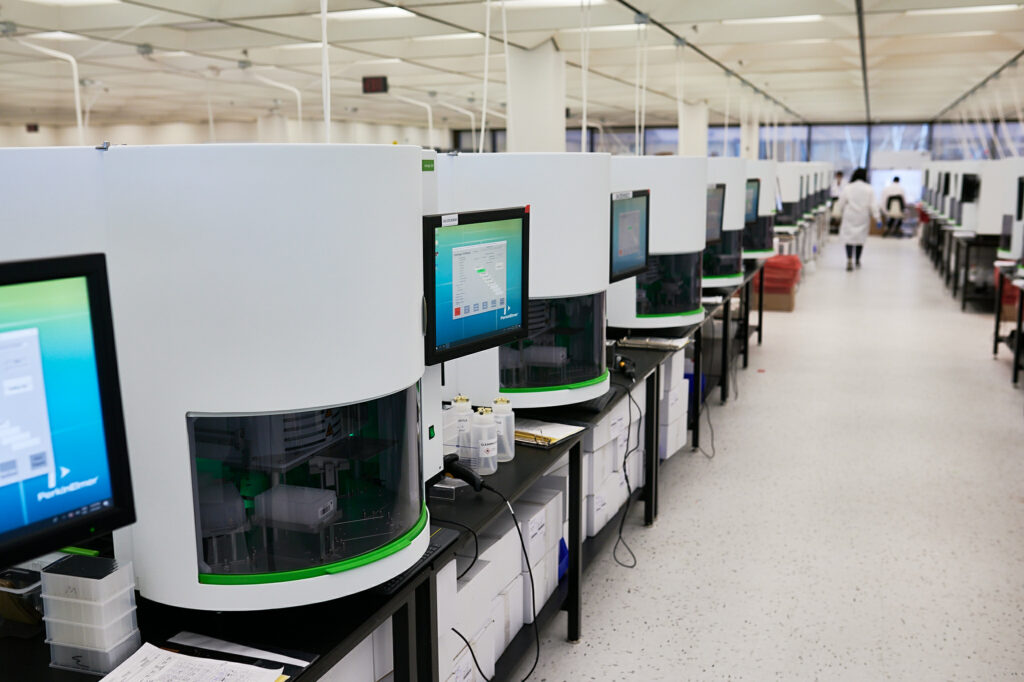 Biosample Fractionation
Biosample fractionation describes the methodology of preparing samples for further laboratory and diagnostic processes. A variety of semi- and fully automated tools are used and can be tailored to the specific sample type, collection vessels and project criteria.
Sample preparation capabilities include automated sample aliquoting, automated blood fractionation, normalized biomaterial aliquoting and distribution, and tissue preparation. Sampled provides customized services for all volumes, sample types, concentrations, and quantities giving flexible client support based on project need.
Blood Fractionation
Blood fractionation is a method of separating the various components of blood. Typically, this is done by centrifuge. Whole blood contains red cells, white cells, and platelets (~45% of volume) suspended in blood plasma (~55% of volume). Red blood cells (RBCs), or erythrocytes are what gives blood it's bright ruby-red color.
Blood components:
Whole Blood
Red Cells
Platelets
Plasma
White Cells
Biological Asset Management and Biobanking
Biological assets relative to science includes any living plant, specimen, or bioproduct including a recent modification to recognize cannabis and hemp. A big part of managing samples is assigning a value to them and managing them as part of a collective holding. This helps company stakeholders gauge company health and future acquisitions. By classification or assigning contribution values to the biorepository arms of operation, the biorepository stakeholders can more easily navigate daily operations and expenditures. [3]
How to Manage Biological Samples
Managing biological samples storage and processing through the lens of a biorepository translates to understanding its many arms of operation. High functioning biorepositories such as Sampled often have a complex infrastructure to help maintain all aspects of its laboratory functions including receiving, distribution, and LIMS administration. [3]
In many cases, a designated individual coordinates with clinical study teams and provides a hands-on manual approach for making sure the biosamples storage parameters are intact. It is not uncommon for those in leadership positions within the biorepository to be trained and well-versed in all arms of operation. [3]
Maintaining Sample Integrity
Maintaining sample integrity is an essential practice for any clinical laboratory. If there is a problem with the sample, the testing process and result become compromised and unusable. The collected sample should be reflective of the whole. Samples are then labeled, packaged, and shipped.
Upon receipt, the laboratory analyst should reconfirm the sample homogeneity. Automated sample handling and extraction aids work well towards the reduction of errors often seen in manual sample handling and significantly increases laboratory throughputs. Additionally, laboratory personnel must follow all specimen handling guidelines and adhere to the SOPs on site as a major function of sample management.
Common Errors that Compromise Sample Integrity:
Collection of a sample from the wrong patient
Mislabeled and unlabeled samples
Incorrect freezer mapping
Brown, Black outs
Equipment Malfunctions
Biospecimen Quality Control
Quality control and sample management are essentially synonymous. Great care must take to make sure all equipment is fully functional, though automated processes work hard to create error free samples processing. Each operation is computerized to minimize sample mislabeling and/or cross-contamination. All samples and sample containers bear a 2D barcode to ensure sample identity.
New kits, reagents, and protocols are validated before routine use. All lymphoblastoid cell lines (LCLs) are tested in-house and shown to be free of mycoplasma, bacterial, and fungal contamination. All cryopreserved LCLs and iPSCs are viability tested.
Sample Data Management
Simplifying lab function and optimizing the way sample data is generated is almost a given in today's high-tech world. With cloud computing and up-to-the-second streaming capabilities, lab personnel can easily navigate sample data on their mobile devices. This is a big benefit because it also means that full automated control is at the helm of each lab analyst eliminating the need for excessive handling. This translates to fewer errors and the ability to catch minor problems and solve them before they have a chance to escalate. I.e., black outs, equipment malfunctions, etc.
Biological Data Management with Informatics
There are many elements to understanding what goes into biological data management. Informatics details personal data linked to each sample. HIPAA laws sometimes come into play in this landscape making it necessary for all laboratories to be well versed in this space. This is especially true when documenting patient data and entering this information in shared public networks.
Data Formatting and Computation
Data formatting and computation for biology professionals encompasses a set of tools, both stand-alone and web-based, to help them visualize and process biological data. In many biorepository settings, a laboratory analyst is assigned to the arm of sample management. They must learn to navigate incredibly complex and large filed many of which contain critical data descriptions required for downstream processing.
Computational biology research involves the reading and comprehension of data in many various biological file-formats including:
FASTA
FASTQ
gene transfer format (GTF)
variant calling format (VCF)
protein database format (PDB)
sequence alignment map (SAM)
Sampled is a Global Leader in Biosample Management
Sampled is well-positioned as the world's largest university-based biorepository and has maintained a reputation for excellence in biosample management since 1999. Our establishment boasts a technologically proficient infrastructure and a robust offering of quality biomaterials. We hope that we are playing a small part in the effort towards unlocking some key clinical doors for which we don't yet have answers. The Sampled team provides customized solutions for any size project. Our aim to fuel any scope of project or study with viable biosamples, technical and scientific support.
We Are an Accredited Biorepository
Sampled is accredited by the College of American Pathologists, a worldwide leader in laboratory quality assurance. In 2012, the College accredited Sampled through its Biorepository Accreditation Program, making the operation at Rutgers one of the first in the world to earn this designation. Sampled also has an active CLIA license, and adheres to "ISBER Best Practices" guidelines, known for representing the gold standard in biobanking practices.
Contact us today for Sample Management solutions
We value our role in the scientific community. As such, Sampled welcomes you to learn more about how facilities. Our approach is geared towards accuracy and automation.
References:
Im K, Gui D, Yong WH. An Introduction to Hardware, Software, and Other Information Technology Needs of Biomedical Biobanks. Methods Mol Biol. 2019;1897:17-29. doi:10.1007/978-1-4939-8935-5_3
van der Sanden B, Dhobb M, Berger F, Wion D. Optimizing stem cell culture. J Cell Biochem. 2010;111(4):801-807. doi:10.1002/jcb.22847
Redrup MJ, Igarashi H, Schaefgen J, et al. Sample Management: Recommendation for Best Practices and Harmonization from the Global Bioanalysis Consortium Harmonization Team. AAPS J. 2016;18(2):290-293. doi:10.1208/s12248-016-9869-2